NBAers Help At Maryknoll Clinic

By
.(JavaScript must be enabled to view this email address)
Wednesday - July 27, 2011
|
Share

Del.icio.us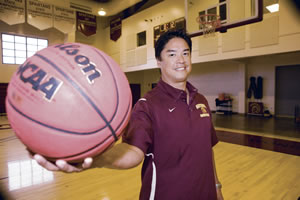 Blaine Gier: life is good indoors. Leah Friel photo

.(JavaScript must be enabled to view this email address)
Blaine Gier vividly recalls the days of outdoor basketball practices at Maryknoll School.
"I remember coming here in the ninth grade and looking at what we called 'the green monster.' It was the paved court under the big banyan tree next to the freeway that's what we all wanted to play on. It had the shade and the great players, and we were all in the sun. Coach Sellitto would be yelling and all the courts would be full. We'd look over at that court, and wish we were there."
Gier (pronounced GUYer) played hoops for Maryknoll back in the Tony Sellitto heyday of the 1980s, and several years later became the Spartans' head boys volleyball coach and head boys basketball coach himself. Now, he's the director of alumni relations for the school and he's seen Maryknoll graduate to its beautiful indoor facility, Clarence T.C. Ching Gymnasium.
"We joke with the kids today, 'You guys have it so easy with all this air conditioned comfort,'" he says. "Back in the day, you not only had the hot sun, but if you shot an airball, the ball might bounce out onto the freeway."
Gier has brought together a number of notable Maryknoll alumni who have played or gone into coaching including Coach Sellitto and paired them with NBA star Steve Blake and the NBA "Shot Doctor" John Townsend for the TRD Pro Player Island Basketball Camp. The camp, hosted by Maryknoll School at the Ching Gymnasium, will be held Wednesday, Aug. 10, through Friday, Aug. 12. The afternoon session is open to youngsters in grades 3-6, while the evening session is open to players in grades 7-12. The cost is $150 per participant and you can register at the door or online at maryknollschool.org.
"In Hawaii, traditionally, the emphasis has been on ball-handling, and that's good. But we want to emphasize shooting skills, too. Having 'The Shot Doctor' here will help everyone. He studies the way a person shoots and helps them make corrections," Gier says. "And Steve Blake is great he really makes it fun! What I like most about him is he really interacts with the kids. He jumps in there and plays with them when we go 5-on-5, and the kids can say, 'Hey, I just played with a Laker!' I've seen kids go 1-on-1 against Steve and knock down a shot, and that really sticks with them."
Sellitto's presence at the camp is important, too, Gier says.
"Coach Sellitto was always good at inspiring his players. He always brought out the best in us. (In the camp), Coach takes the parents aside and talks with them about philosophy, the importance of education and playing at the next level."
Blake is no stranger to NBA camps here in Hawaii. The Los Angeles Lakers point guard who has had previous NBA stops in Portland, Denver and Milwaukee is known as a great passer, but is also a strong shooter. Townsend has been a professional shooting coach for more than two decades and helped a number of NBA stars over the years.
"We need more emphasis on shooting," Gier says. "It seems like back in the day we had more great shooters. So, I think it's a good thing we're emphasizing this for today's kids things like the relationship between your elbow and your knees, and technique, and the importance of your legs and balance."
Blake, Townsend and Sellitto will be joined by women's basketball coach Larry Davis and a host of local coaches from HPU, Roosevelt, Kailua and elsewhere many of whom remember the days when Maryknoll basketball was defined by "playing next to the freeway." Gier says.
Oh, how far they've come and how far the local youngsters of today can come by attending this important camp at Maryknoll's beautiful Ching Gymnasium.
Most Recent Comment(s):