Next Up For Tadd, The Pearl Open

By
.(JavaScript must be enabled to view this email address)
Wednesday - February 07, 2007
|
Share

Del.icio.us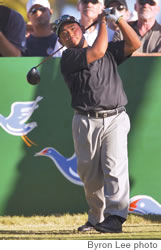 Tadd Fujikawa tees off on the
final hole of the Sony Open
Next stop for Hawaii's latest teen golfing sensation is this week's Pearl Open at the Pearl Country Club.
Tadd Fujikawa, the 5-foot-1-inch Moanalua High School sophomore who stole the show at last month's PGA Tour Sony Open, tees off this Friday, Feb. 9, hoping to make the same kind of magic in the 54-hole tournament that he made at Waialae Country Club. (The Pearl Open is scheduled for Friday through Sunday, Feb. 9-11.)
"It's always good to play against the pros," he says. "I'm feeling pretty confident and hopefully everything can click."
Everything has been clicking for Fujikawa since he first started playing in amateur tournaments at the age of 11. By the age of 12, he was storming his way to victory, including an 8-stroke win in the Hawaii State Junior Amateur.
"That was my first big win," he says.
By age 15, he was the OIA co-champion, despite being just a freshman at Moanalua. And last summer, at the tender age of 15, he made history by becoming the youngest qualifier to play in the prestigious U.S. Open since 1941.
"That was phenomenal," he recalls.
But what is even more phenomenal is Fujikawa's emergence to superstardom. He was born three months prematurely and weighed only a little more than a pound at birth. Doctors told his parents, Derrick and Lori, that he had only a 50-50 chance to survive.
Fujikawa not only survived, he thrived.
"Everything is just a blast," he says.
He transferred that exuberance and enthusiasm to the game of golf, first hitting driving range balls at the Navy-Marine course with his Aunt Judy Tonda at the age of 8.
"When I was young, I bought clubs off the rack and cut them down," says the diminutive dynamo. "Then I started getting good and got all my clubs custom made."
Now all his clubs are Calloway. And despite his small stature, he can drive the ball with the best professional around, averaging nearly 290 yards off the tee. On one hole during the Sony, he smashed a drive 347 yards.
But the best part of his game is approaching the greens.
"My irons and approach shots, that's my strength right now," he says.
He showed off those skills at the Sony Open last month when he became the youngest player to make the cut at a PGA Tour event in 50 years. When Fujikawa birdied the 16th hole on the second day of the tournament, he ensured that he would make the cut. Amazingly, he got better, sinking an eagle putt on the 18th hole to finish with a score of 4-under par 66.
When he reacted to his big putt by pumping his arms to the sky, his reaction not only made the local TV news, but the national sports highlights, as well. By the third round, he was the hottest story in golf, finishing with another round off 66.
When he completed his four-day run, he wound up in 20th place, ahead of such golf legends as Vijay Singh and John Daly, among many others.
Fujikawa was an instant celebrity.
"I feel like the same person; I just don't have as much time," he says of the constant interview requests, dinners and celebrations that followed for the next couple of weeks.
"It's all good," says mom Lori. "Life has changed a lot. It's hectic, but it's a good kind of hectic. He still just needs to be a kid."
And that is part of Fujikawa's charm. His boyish charm combined with his diminutive charm makes him an instant fan favorite.
"You have to love the game," says.
Right now, that game is loving him right back.
"My goal eventually is to play in college and then make it on the (PGA) tour," he says. "My ultimate goal is to be No. 1 in the world."
Nothing seems impossible for Tadd Fujikawa. Call him the little man who could.
Most Recent Comment(s):