NFL Builds A Kaneohe Playground

By
.(JavaScript must be enabled to view this email address)
Wednesday - January 25, 2012
|
Share

Del.icio.us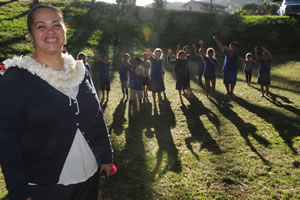 Kameha'ililani Waiau, principal of Ke Kula 'o Samuel M. Kamakau Laboratory Public Charter School, with students. Nathalie Walker photo

.(JavaScript must be enabled to view this email address)
I can think of at least two very exciting things about this week's Pro Bowl. One is that unless something unforeseen happens after MidWeek goes to press, the NFL's likely most valuable player this season, quarterback Aaron Rodgers of the Green Bay Packers, will be on hand at Aloha Stadium to showcase his immense talents.
The other will happen on the other side of the island where NFL PLAYERS (the marketing arm of the NFL Players Association), NFL community relations reps, sponsor Procter & Gamble, players and many local volunteers will get together to build a school playground in Kaneohe.
The building project, in which as many as 30 NFL players have been invited to participate, will take place from 8 a.m. to 4 p.m. Thursday, Jan. 26.
"We just made 12 years (as a charter school), but we never had a playground," says principal Kameha'iliani Waiau of Ke Kula 'o Samuel M. Kamakau Laboratory Public Charter School. "This will be fun!"
For the past dozen years, the Hawaiian immersion school has "borrowed" a campus site at Kokokahi YWCA. But this next year, the school will move to its new site deep in Haiku Valley.
"We'll be neighbors with the Stairway to Heaven," says Waiau. "It's a 28acre site leased from DHHL."
The new playground, which will be built as a community relations partnership with the NFL, will be located at the new site.
"We're taking the next step," says Waiau. "It's neat how our big kids (the school now has 127 students through grade 12) are so supportive. They're so excited for our younger kids."
Waiau says the new playground has been certified for use for youngsters between the ages of 2 and 12, and will eventually be open to the community, too that is, when the construction on the new campus site is completed prior to next school year.
The volunteers are expected to build a 2,000square-foot playground that Waiau says includes "a mini rope course, slide, swings, a mini rock wall, jumping pads" and much more. "It will be awesome!" People are encouraged to come to watch the building project (remembering that it is a construction zone), and volunteers are encouraged.
"We have some super parents who will be involved," says Waiau. "We're hoping others come to volunteers. We need your kokua!"
You can volunteer, and possibly work right alongside NFL players, by calling the school office at 2359175, or email .(JavaScript must be enabled to view this email address).
Previously, the NFL has been involved in similar community building projects in Texas and California, says Waiau. The playground project is part of a series of community events called "NFL PLAY 60 Community Blitz" planned throughout Oahu in the week leading up to the NFL Pro Bowl.
The game between the NFC All-Stars, featuring quarterback Rodgers, and the AFC All-Stars, is set for Sunday, 2 p.m., at Aloha Stadium.
Most Recent Comment(s):