Nice People In Sports Awards 2011

By
.(JavaScript must be enabled to view this email address)
Wednesday - December 21, 2011
|
Share

Del.icio.us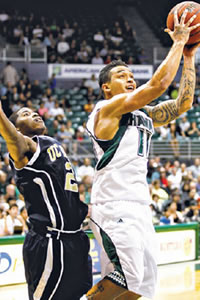 Miah Ostrowski gave the Bows an immediate lift. George F. Lee / Honolulu Star-Advertiser photo
'Tis the season to be jolly and also to say mahalo to great people in Island sports. Here is my Christmas card to some of my favorite people as we hand out the Bob Hogue/MidWeek Nice People Awards for 2011:
* The Wahine Volleyball Team: There is no way to select just one player from a team that gave us so many chicken-skin moments this fall. Dave Shoji's club, which deserved to be much higher seeded in the NCAA tournament, gave us an epic national championship-level match to remember in the regional semi-finals. Their hard work, great spirit and awesome teamwork sold out Stan Sheriff Center and made all of us proud of the 2011 WAC volleyball champions!
* Reggie Torres and Kale Ane: Perhaps you're not supposed to mention the Kahuku football coach and the Punahou football coach in the same grouping, but the great work of these two outstanding veteran high school coaches led to a thrilling championship game in the HHSAA Division I football playoffs this fall. Both the champion Red Raiders and the runner-up Buffanblu should be proud of their efforts.
* Miah Ostrowski: Isn't it fun to think that the addition of one little player can lead to such excitement in University of Hawaii basketball? For the second straight year, the dynamic point guard joins the Rainbow Warrior hoopsters after the completion of his slotback duties for the Warrior football team. Hawaii fans are blessed to have such a talented twosport star to cheer on for months on end.
* Carissa Moore: I remember interviewing her several years ago when she was a freshman in high school, amazed at how a girl so young could have such incredible talent as a surfer. Now, at age 19, she's the youngest ASP women's world champion ever, and the first woman to receive a wild card entry in the men's Triple Crown of Surfing. What a tremendous credit she is to her family and to the Islands.
* Courtney Gaddis: She's one of my all-time favorite local athletes. The Wahine basketball captain has played the game with sheer joy ever since her days as a hot-shooting guard at La Pietra and Kalani. Now the former walk-on-turnedscholarship-player at UH is getting quality minutes in her senior season with acceptance to medical school as her next big goal to conquer.
* Manti Te'o: Another one of my all-time local favorites. I was pleased to see that one of Hawaii's greatest high school and college football players has decided to come back for one more season at Notre Dame. Te'o, who was a finalist for several national awards this year, has been a tremendous force for the Irish and could have opted for the NFL draft. Folks in South Bend say he's one of the nicest and most accommodating football players around showing the aloha spirit wherever he goes.
* Chris Fisher: The Hawaii Pacific University men's soccer coach has made his SeaWarrior program into a contender the past few seasons. This fall, the perennial conference runner-up finally led his team to the title, as HPU men's soccer was crowned co-champion of the PacWest.
* Hillary Hurley: Another two-sport star, Hurley led the UH-Hilo Vulcans into the NCAA women's volleyball tournament and now leads the Vulcans in scoring as the center for their basketball team. She's one of those rare athletes who have been named all-conference in both sports.
Merry Christmas to all these Nice People Awardwinners, and to the nice people who read MidWeek each week!
Most Recent Comment(s):