Once Star QBs, Now Top Coaches

By
.(JavaScript must be enabled to view this email address)
Wednesday - September 23, 2009
|
Share

Del.icio.us
Sorry, but I'm totally biased this year when it comes to local high school football. I'm openly rooting for a match-up between Mililani and Saint Louis for the state championship.
Why? I'm just so excited to see two former quarterbacks that I practically watched grow up on the football field now solidly on the sidelines guiding these two proud programs as head coaches - Darnell Arceneaux with the Mililani Trojans and John Hao with the St. Louis Crusaders.
Both are former Saint Louis quarterbacks who starred for the Crusaders during the glory days of Cal Lee. Both thrilled fans with their commanding presence and tremendous talents before going on to the college ranks.
Arceneaux starred at Utah, and was an amazing threat as both a passer and as a runner. After leading the Utes, he got a shot at pro ball, and was a star in both the Arena Football League and AF2. His last job as quarterback was with the Hawaii Islanders.
Hao, meanwhile, stayed at home after high school, and slowly worked his way up the depth chart at the University of Hawaii. In one unforgettable season, he went from fourth on the chart to No. 1. He then had a brief go at indoor professional ball with the Honolulu Hurricanes.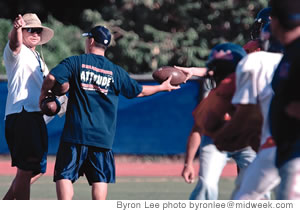 Saint Louis coach John Hao at practice
Both Arceneaux, 31, and Hao, 36, realized that they wanted to impart their love of the game to high school youngsters coming up behind them. While Hao studied for several seasons under the veteran tutelage of Darren Hernandez and Delbert Tengan, Arceneaux was the first to be a head coach when he was hired by his alma mater at age 25 without previous coaching experience.
Despite practically learning on the job, Arceneaux guided the Crusaders into the state title game where they came within inches of knocking off champion Kahuku.
Arceneaux stepped down after that year, only to re-emerge a couple of years later as a more mature head coach at Mililani.
When I ran into Darnell during the UH season opener, I congratulated him on the success of his 2009 team. He showed great humility by accepting the praise but also noting that the season was still quite young and that his team had a lot of growing to do.
Growing is what both Arceneaux and Hao have accomplished. Whatever rookie mistakes they made when they took over, those challenges are things of the past. Both have shown tremendous maturity and leadership in bringing along their clubs slowly.
Neither went for the quick fix and neither has won an overall championship - yet. But both have an opportunity to win their respective league titles this season.
Saint Louis jumped to the top of the prep football rankings the first weekend of the year. That's where many expected them to be, and that's where they've been. They've looked extremely strong on offense with talented Jeremy Higgins at quarterback, and they're getting stronger on defense. Hao, who runs a similar offense currently to the one that the Lee brothers set in motion two decades ago at Saint Louis, has his team playing at the highest level.
Arceneaux's Mililani squad is somewhat of a pleasant surprise. Sure, local fans knew about the incredible talents of senior star Taz Stevenson, but any questions were answered quickly when Mililani upset the two teams that played in last year's state title game in the first two weekends, champion Punahou and runner-up and 2007 champion Leilehua. Each week the Trojans have played much like Arceneaux did when he was an all-state star in the mid-90's, with outstanding talent and tremendous class.
Sure, both Saint Louis and Mililani will have some very tough hurdles to overcome if they want a chance for this dream title match-up of coaches. The ILH, with Kamehameha, Iolani, and Punahou, will not make the road easy for the Crusaders. And in the OIA, Mililani will have Kapolei, Waianae, Leilehua (again) and powerful Kahuku laying in wait.
Hao and Arceneaux knew the hurdles when they accepted the challenge to attend Saint Louis and battle for the coveted quarterback spot there. Today they're head coaches. I'd sure love to see them go head to head.
Most Recent Comment(s):