PacWest: Volleyball Powerhouse

By
.(JavaScript must be enabled to view this email address)
Wednesday - August 27, 2008
|
Share

Del.icio.us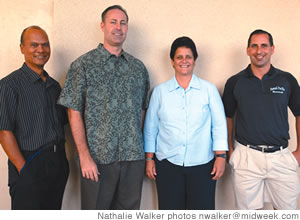 (from left) coaches Wilfred Navalta of BYUH, Bruce Atkinson of UHHilo, Glennie Adams of Chaminade and Daryl Kapis of HPU
When I picked up University of Hawaii at Hilo women's volleyball head coach Bruce Atkinson at the airport, I congratulated him on his team being selected as the PacWest pre-season favorites.
That honor should have come as no surprise, since last year the Vulcans ran the table in the conference with a perfect 14-0 record. And with virtually all his key players returning, plus a couple of key additions, you would think that Atkinson would have been very optimistic.
But he definitely wasn't. "I don't know," was his response. "Everybody else has gotten so much better. I don't believe that anyone could go undefeated this year."
He might be right on with that assessment. When the four PacWest schools in Hawaii serve up their first volleys this week, all of them have to be considered in the title chase - not just UH-Hilo, but also BYU-Hawaii, Chaminade and Hawaii Pacific.
And this year there is even more incentive for the ultimate victor because the league has just re-earned its automatic qualifier status. That means the PacWest champion will automatically earn a spot in the NCAA tournament, something that UH-Hilo missed out on a year ago.
"Hilo is a great team and they deserved to go (to the NCAA regionals) last year," says Wilfred Navalta, the head coach at BYU-Hawaii. "I voted for them again this year, (but) I know we will be greatly improved. We have some issues to work out, but I know we will be better."
That confident statement by the longtime coach from Laie is also saying something else. The Seasiders have won a number of national titles over the years, and Navalta is usually quite conservative about handing out early season accolades. So perhaps he knows that his team is ready to return to prominence. This year's PacWest coaches tabbed his team to finish in the league runner-up spot.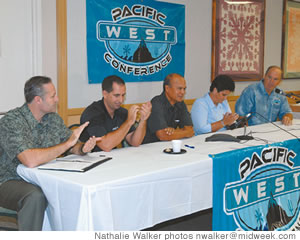 Bob Hogue (far right) with Atkinson, Kapis, Navalta and Adams
Picked third is Chaminade, a team that has really shown great improvement the last couple of seasons. Veteran coach Glennie Adams has the Silverswords playing at a very high level. Outside hitter Trina Kauliakamoa was selected as the league's pre-season Player of the Year, and with the addition of former San Jose State star Courtney Lorusso (another outstanding outside hitter) to its lineup, Chaminade will definitely be in the title mix.
HPU, picked to finish fourth, may be the dark horse. "I think they may actually be the favorite," Atkinson predicts. Why? HPU's Daryl Kapis cleaned house after last year, bringing in more than a dozen new players, including several international stars, plus a 6-foot-3-inch transfer from Boise State, middle hitter Elise Ardron.
"The battle on our team isn't just who is going to be in the starting lineup, but whether you're going to make the travel squad," Kapis says. That means virtually every position is up for grabs. And with competition for playing time at a premium, it's bound to make all the players even tougher.
Grand Canyon, Notre Dame de Namur and Dixie State round out the tough conference competition. All three Mainland schools are expected to rise to the challenge from the Islands.
The non-conference season gets under way this Thursday through Saturday with HPU, Chaminade and BYU-Hawaii hosting the Hawaii Invitational tournament at their home sites, plus matches at Blaisdell Arena. UH-Hilo also has its own tournament Thursday through Saturday.
Then, the PacWest conference season begins Sept. 18. You can follow the action by checking out televised games on OC-16 and KWHE-TV.
Most Recent Comment(s):