'People's Champion' Niko Vitale

By
.(JavaScript must be enabled to view this email address)
Wednesday - March 02, 2011
|
Share

Del.icio.us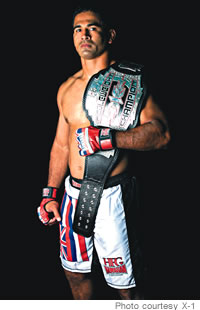 Niko Vitale defends his belt against Dylan Clay May 12
I'll have to admit that I've never been a huge fan of MMA. Perhaps it's because I'm an "old school" kind of guy, and it's been difficult for me to latch onto this sports craze that many younger fans have really gotten into.
But despite my personal feelings, I have great respect for one of MMA's older champions. Truth be told, Niko Vitale, the so-called "People's Champion" from Waipahu
High and the University of Hawaii, deserves our respect.
At age 36, he's no spring chicken in a sport that demands tough-as-nails competitors and the best of wrestling, boxing, jiu-jitsu and muay Thai.
"I'll go as long as my body tells me. I just want a chance to compete at the highest level," he says.
And he keeps himself in fantastic shape, even dropping down in weight over the last couple of years from a high of 205 pounds to win the X-1 Middleweight championship belt at 185.
This month, Vitale defends that belt as the headliner of an X-1 MMA event at Blaisdell Arena, Saturday May 12. Vitale will take on 170-pound champion Dylan Clay (formerly from Maui, now from Colorado) in a night of 10 championship bouts.
"The Blaisdell is my favorite venue," he says. "The fans, the families - if I could fight there every month I'd do it. I think this fight might give us the biggest crowd we've had for a long time. For young people, it's like going to a club scene. I've noticed younger people dressing up and coming to the fights - it's like a party."
Vitale speaks softly and with great humility. He's a family man with a wife (Mandy) and three daughters (Jasmine, 13, Alexia, 7, and Destiny, 4). When he's not in the ring, he works part time with a demolition crew "breaking down old houses and other buildings for construction," he says. "People see me as 'The People's Champion' because I'm a blue collar athlete and a family man. That's important to me."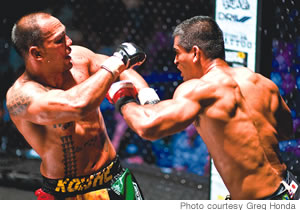 Vitale (right) takes on Kala Hose at Blaisdell Arena
Vitale first became interested in wrestling while a football star at Waipahu High. He wrestled one year for the Marauders and won the OIA championship. After playing some junior college ball in Utah, he came back home to star for the University of Hawaii football team from 1994 to '96 - "when we sucked," he says, laughing.
But despite the local team's inability to win in those years, Vitale became known as a big-hitter with a huge heart. He became intrigued with martial arts from former Rainbow Warrior Kendall Goo and got into MMA in the late '90s. As that sport grew in popularity with the younger crowd, Vitale appeared to hit his professional peak in the early 2000s. He spent most of the last couple of years training with Hawaii's UFC star BJ Penn - "as a dummy," he says, laughing once again.
Then, he mounted a comeback - first winning the X-1 title, and recently signing for a non-title bout with Bellator middleweight champion Hector Lombard.
"If I win that fight, I'll fight for the championship. A shot for the title means a lot," he says.
In the meantime, you know he'll put on a great show every fight.
"I want to be the nicest guy off the field, but in competition, you become a totally different person," he says. "Even when I was playing football, I wanted to be the first person to take their head off before they decided to take mine off."
And for "old school" guys like me, he has these thoughts: "It's time to remove the walls and the stereotyping. We don't just go into the ring to fight. We're a lot like boxers with strategies and techniques. I think we've got more excitement and more disciplines.
"To me, it's the ultimate sport."
Most Recent Comment(s):