Pio's Back Home And Giving Back

By
.(JavaScript must be enabled to view this email address)
Wednesday - July 21, 2005
|
Share

Del.icio.us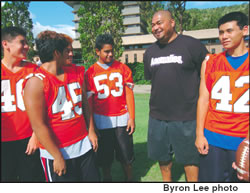 Sagapolutele, pictured here with Tyson
Hayashi, Franklin Kim, Adam Jacobs and
Logan Hiromoto, will be part of the Pac-Five
football reunion on July 24
Nine years in the National Football League and a Super Bowl ring haven't caused one of the biggest men in Hawaii to forget his roots.
Pio Sagapolutele, all 6 feet 6 inches and 297 pounds, has returned home to the islands.
He and his wife, Yvonne, and their three children, Pio Junior, 9, Malia, 5, and Sky, 3, moved back here about four months ago and are making a new home in Manoa.
"I was a Kuhio (Park Terrace) boy growing up in Kalihi," he says. "That is something I'll never forget."
The 35-year-old Sagapolutele came from a huge family with seven brothers and four sisters. He was "a tall, lanky kid, a bit of a rascal," says Kip Botelho, the current Pac-Five head football coach who was an assistant coach when "Big Pio" played for him in the mid-'80s. "He played on the '85 team that won the Prep Bowl. After high school, he just exploded. It was great for our program to see him achieve at the next level and beyond."
Of all the Pac-Five stars, from Ricky Andrews to Ink Aleaga and Leroy Lutu and others, Sagapolutele had the longest and most prolific NFL career. An All-WAC player at San Diego State, the big defensive lineman was drafted by the Cleveland Browns and also played for the New England Patriots and New Orleans Saints.
In Super Bowl XXXI, when the Pats faced the Green Bay Packers, Sagapolutele showed how much he cared for Hawaii from the moment he put his uniform on. He wore his old Maryknoll School T-shirt with a Pac-Five logo under his pads, plus he inscribed HI, the postal abbreviation for Hawaii on the tape covering both of his wrists.
"It was a pride thing," he says.
But his greatest NFL memory didn't come from that Super Bowl; it actually came much earlier in his career.
"My best memory was just being out there on the field for my first game," he recalls. "I was playing for the Browns and I remember sitting on the field stretching in the pre-game, thinking about growing up in Kalihi, going to Maryknoll, and how far I had come."
Sagapolutele never forgot that feeling, even after injuries forced him to retire in 1999. Today, he gives back to underprivileged youths in football camps in California and Hawaii.
"I was able to attend a camp when I was young and it helped send me in the right direction," he says.
He always tries to remain positive.
"I always remember the lessons I learned from my parents; treat people how you want to be treated," he says. "People deserve the right to feel special and I always try to find a way to make them feel like that."
This week, Sagapolutele will be sharing special feelings with old friends and teammates. He's a part of the second annual Pac- Five Alumni Reunion at Ocean Club in Restaurant Row, Sunday evening, July 24 from 5 to10 p.m.
"It's so nice to refresh memories with the guys," he says. "I think a lot of (the offensive linemen) still want to take me on. We laugh about it and joke about it. It's great to see everyone."
He says he appreciates the Pac-Five tradition of several smaller Honolulu private schools coming together each autumn on the gridiron.
"Everybody shared no matter what the situation was," he says. "Seeing all the guys and how they always stuck together means a lot."
Like an elephant, Pio Sagapolutele never forgets. For more information on how you can share memories with him at the Pac-Five Reunion, contact Kip Botelho at 223-7101.
Most Recent Comment(s):
Commenting is not available in this weblog entry.