Player Of The Year Will Get Another

By
.(JavaScript must be enabled to view this email address)
Wednesday - November 14, 2007
|
Share

Del.icio.us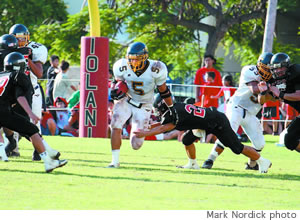 Manti Te'o breaks another tackle. The Punahou junior will be back for one more season
With apologies to outstanding high school senior football players Kama Bailey, Micah Mamiya, Geordon Hanohano, Solomon Koehler, Benji Kemoeatu and all of their talented classmates, the most talented high school football player in Hawaii this year isn't a senior. In fact, the very best high school football player in Hawaii isn't even in the state playoffs.
His name is Manti Te'o, and he's just a junior. And even though his Punahou team will finish the year ranked No. 2 in the state, the Buffanblu didn't earn a spot in the upcoming HHSAA tournament because the ILH gets only one representative - and that, deservedly, goes to top-ranked and undefeated Saint Louis.
It's a shame that local football fans will have to wait again until next season to watch Te'o play.
"D-I deserves a play-in berth," says Wendell Look, the coach of ILH D-II champion Iolani, moments after watching Te'o dominate the field in the ILH finale between his Raiders and their arch-rival Buffanblu.
But the lack of an opportunity to showcase his talents on the post-season stage hasn't dimmed the prospects of Punahou's multi-talented linebacker/running back/receiver. Some experts consider Te'o the best prospect from Hawaii in the last few decades.
"He reminds me of Mosi Tatupu, another guy who just dominated every facet of the game he played in," says Punahou coach Kale Ane. The coach ought to know - Ane starred at Michigan State and then later for the NFL Kansas City Chiefs.
At 6-feet-2-inches tall and close to 230 pounds, Te'o has already received scholarship offers from some of the biggest schools in college football - and he still has an entire high school season to play!
"All the quality schools have called -virtually everybody on the West Coast. I've talked personally with Pete Carroll (USC) and Charlie Weis (Notre Dame)," says Ane. Other schools reportedly interested include Florida, Oklahoma, Colorado, Hawaii and a list so long that this column would run out of space.
"He's a spectacular player," says his coach in the under-statement of the year. Just how spectacular was proven once again in the first few plays of his final game this season.
On the opening kickoff, Te'o - playing like a caged mountain lion on the prowl - swooped out of nowhere to make a crushing tackle on the kick returner. Then, on the game's first play from scrimmage, Te'o chased down the scrambling quarterback and forced a fumble that Punahou recovered. A few plays later, with the Buffanblu struggling on its first drive, Te'o came into the game on offense and made a tremendous jumping catch in traffic to score the game's first touchdown on a 27-yard pass to the end zone.
"I've never done anything like that before," Te'o tells me after the game. His humility belies the fact that he has been making mind-boggling plays all season long. In the season opener, for example, he came into the game with his team backed up to within 12 inches of its own goal line and promptly ran the ball 99 yards and two feet for a touchdown, equaling a national high school record.
"What can I say? I'm greedy," he says with a smile. "When I'm on defense I want to make the tackle, and when I'm on offense I want the ball."
At the next level, Te'o probably won't be used in all facets of the game as he is at Punahou. His most obvious talents come on the defensive side of the ball. "You have to account for him on every play. He's got great instincts," says Ane.
Fans who watched Te'o this season found themselves doing something they don't normally do - that is, they simply watched for his number, No. 5. "I've never watched someone run down the field on the kickoff team before until I saw him. But you have to; he's amazing," one football fan after another will tell you after watching Te'o play.
Unfortunately, we won't get that chance in the state playoffs. But that's OK - there's always next year. And after that promising senior season, we'll no doubt be watching Manti Te'o on college football Saturdays and probably NFL Sundays for years to come.
Meanwhile, he's not sitting idle - he's going out for the basketball team.
Most Recent Comment(s):