Plenty Of Good Seats Are Still Left

By
.(JavaScript must be enabled to view this email address)
Wednesday - November 23, 2005
|
Share

Del.icio.us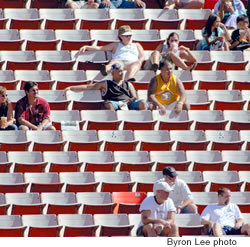 The loneliness of being a UH football fan was
seen at a recent game
If a comedian came to Hawaii, he might add the following jokes to his stand-up routine: "I went to the last University of Hawaii home football game. The guy next to me said his name was 'M.T. Seat.'"
Cue the drummer.
"He said his whole family had the same name. 'Just look around', he said. 'We're all over the stadium. It's the M.T. Seat reunion.'"
OK, OK. Bad jokes.
But the bad ones are the ones that hurt the most.
Tell me if you were laughing or crying when you saw less than 25,000 in the house for the Fresno State game (on national TV, no less!) and not much more than 20,000 for the Utah State game.
Joke or no joke, the UH football program has itself a serious situation.
The reasons for the severe drop in attendance are many. Increased ticket prices, day games, live television and a non-winning record have alienated more than just a few formerly loyal fans. Add to that list a draconian set of stadium rules, plus a controversial proposal to ban tailgating alcohol consumption in the future (but not inside alcohol sales - how's that for a mixed message?) and you can see why fans are feeling like they're not wanted.
Ah, but there's hope for this comedy of errors.
The downward attendance spiral could be turned around in these last two home games of the season: vs. Wisconsin (this Friday, Nov. 25, the day after Thanksgiving) and vs. San Diego State (Saturday, Dec. 3, also the Senior Walk). Consider them our bowl games. And that's no joke.
But this next part is. (You can tell me at the game if I should keep my attempted humor to myself.)
More bad jokes from the visiting comedian stand-up routine:
"Here are the Top 10 reasons why you should attend the final two UH home football games (and not as a member of the M.T. Seat family reunion). Audience, you can read along out loud:
10) The lines at the restrooms are getting too short.
9) Something, besides your neighbor's hibachi, has to fill up the stadium's 8,000 parking spaces.
8) It's a good excuse to try out your mother-in-law's leftover Thanksgiving turkey recipes.
7) The (Wisconsin) Badgers are no match for a Colt (Brennan.)
6) To petition the politically correct NCAA (otherwise known as the "nickname police") to ask them if "Aztecs" (that's the San Diego State nickname for those of you from Kukunono) is as offensive as "Illini."
5) Ticket scalpers may have to look for a real job.
4) Parking attendants need to pass out the remaining flyers that tell you what you "can't do" at the stadium.
3) Jerry Glanville is hoping that someone sits next to Elvis.
2) The Dip-n-Dots are feeling lonely.
And, now, the No. 1 reason you should attend the final two UH home football games (and not as a member of the M.T. Seat family reunion.). Drum roll please:
1) Duke Aiona is feeling lonely.
Thank you, thank you. I'll be in Peoria next week!
See you at the game.
Most Recent Comment(s):