Predicting A Perfect 13-0 Season

By
.(JavaScript must be enabled to view this email address)
Wednesday - August 29, 2007
|
Share

Del.icio.us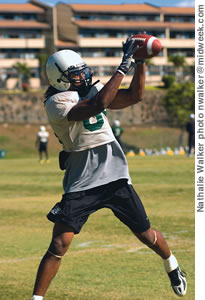 Jason Rivers should be strong from the start of the season
Call me a dreamer or call me a realist. Whatever you call me, when it comes to Hawaii football, I dream big. I also know reality.
So, when you hear me say that I believe the Warriors will run the table this year, please know that there will be a little dose of reality that goes with that prediction.
Here's how I see the incredible season of 2007 shaping up:
Sept. 1, Northern Colorado: Hawaii scores on its first seven possessions in the first half against the 1-AA Bears, and Colt Brennan makes an early Heisman statement. Hawaii wins 63-7, with Jason Rivers having a big game; ranked No. 22 after the game.
Sept. 8, at Louisiana Tech: Hawaii shows it's up to a road test, coming back to win with big second half. Hawaii wins 41-24. (Ranked No. 21).
Sept. 15, at UNLV: With more Hawaii fans in the stadium than Rebel fans, the Warriors go on another scoring rampage with Ryan Grice-Mullins and Davone Bess catching three touchdown passes apiece from Brennan. Hawaii wins 56-28. (Ranked No. 20).
Sept. 22, Charleston Southern: Brennan splits time with Tyler Graunke at quarterback with the back-up throwing more touchdown passes than the Heisman candidate. Hawaii wins 66-13 over another 1-AA foe. (Ranked No. 20).
Sept. 29, at Idaho: Hawaii looks flat in first half, but recovers to win big again. Hawaii wins 38-17 to go 2-0 in the WAC. (Ranked No. 19).
Oct.6, Utah State: The Warrior defense rises up to make a statement as they score three touch-downs on interception and fumble returns. Hawaii wins 51-3. (Ranked No. 17).
Oct. 12, at San Jose State: This Friday night game against against Dick Tomey is the first real struggle of the season for Warriors. A late touchdown seals the victory, 29-24. (Drops two spots to number No. 19 ranking as some Mainland sportswriters begin a campaign to keep them out of the BCS).
Oct. 27, New Mexico State: After a week off and another drop in the BCS rankings, Hawaii explodes with the highest scoring outburst of the year and wins 70-21. (Ranked No. 17 as sports media come to their senses).
Nov. 10, Fresno State: This is where the real season begins - the first of four straight games against quality opponents. For the first time all season, Hawaii trails at home, and despite several defensive injuries the Warriors rally in the second half. Brennan is now considered among top three Heisman hopefuls, and Hawaii wins 48-42. (Ranked No. 16).
Nov. 16, at Nevada: The toughest road game of the season, playing in snow flurries in front of a national television audience, Brennan completes an eye-popping 90-percent of his passes. Hawaii wins 41-28. (Ranked No. 15).
Nov. 23, Boise State: This is the battle of unbeatens for the WAC title. A sellout crowd and another national TV audience greets the Warriors and Broncos. Hawaii wins on a halfback pass and a two-point conversion in overtime. After the game, Brennan proposes to his girlfriend live on ESPN. Hawaii wins 43-42. (Ranked No. 14).
Dec. 1, Washington: With news that Brennan has been invited to New York City for the Heisman ceremony (along with front runner Darren McFadden of Arkansas, John David Booty of USC and Brian Brohm of Louisville), the Warriors celebrate with great second half comeback against Pac-10 Huskies, 47-35. (Ranked No. 13).
Dec. 23, Hawaii Bowl: Snubbed by the BCS, the Warriors take out anger on Memphis of Conference USAin the final game for Heisman runner-up Brennan. A sellout crowd at Aloha Stadium stands for entire the second half to show its appreciation for great Warrior season, and Hawaii wins 47-29. The Warriors finish 13-0 and ranked No. 10 in the nation in the final polls.
Now, let's go out and play the real games.
Believe it!
Most Recent Comment(s):