Proud To Be Becky Hogue's Dad

By
.(JavaScript must be enabled to view this email address)
Wednesday - April 12, 2006
|
Share

Del.icio.us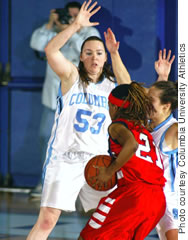 Becky Hogue: loving life in the Ivy
League
Everywhere I go, whatever I am doing, I get the same questions. How's your daughter? How's Becky? Is she still playing ball?
I found out several years ago that I am no longer just Bob Hogue, I have become "Becky Hogue's Dad."
And to answer the questions, Becky's doing great. And yes, she's still playing college basketball.
The two of us had some rare time together recently when I made the long trip from Hawaii to the East Coast. Becky is at Columbia University now, excited to be an Ivy Leaguer, and proud to study with some of the top academic minds of her generation. She's always been an excellent student, and now she's taking classes that she hopes will eventually prepare her for law school.
She also loves New York City. "It's at the center of everything," she tells me excitedly.
Becky is always excited about facing new challenges and exploring new adventures. She's always been a very open-minded young lady, and she has thoroughly enjoyed the opportunity to explore all that the Big Apple has to offer.
When I visited with her - and this should come as no surprise to anyone who knows us - we went to a basketball game. Not college, but the NBA - the New York Knicks and the Washington Wizards. Although on this night, they were calling it "Retro Night," so that meant the two teams came out in the uniforms of their predecessors - the New York Knickerbockers and the Baltimore Bullets.
The arena was filled with images of the '70s, from psychedelic shirts to bell bottom pants to Afro wigs. We truly enjoyed the experience and the game.
But mostly we just enjoyed each other's company in a sport that we both love so much. Basketball has been at the center of our whole lives.
For her first Christmas present, when Becky was only 3 weeks old, I gave her a full-sized basketball. I still have the picture of her lying underneath the Christmas tree with the ball placed next to her head. That big orange ball was bigger than she was.
But she didn't stay small for long. By the time she was in grade school, she was towering over the boys. And I never had to wonder where she was. She was either shooting hoops in our driveway or playing a game at a nearby park or gym.
She had a passion for the game.
She also had an intensity in the way she played. Tough, strong and eventually 6-feet-1-inch tall, she became a force in high school ball. She once told me that she "hated losing more than loving winning."
But at Punahou, she and her teammates won a lot, including an undefeated state championship season her senior year. With Rachel Kane eventually headed to Gonzaga, Elyse Umeda to Princeton and Becky to Loyola-Marymount, they became the first team in Hawaii history to send three seniors to Division I college basketball.
Becky played sparingly her freshman season at LMU, but still earned a trip to the NCAA tournament. When it became apparent that basketball wasn't going to work out there, she transferred to Fullerton College and enjoyed an all-conference season as a sophomore.
But Becky's goal had always been to get to an Ivy League school. Yale had come knocking on the door when she was in high school, but she had let the opportunity pass. She was thrilled to get a second chance at Columbia where she became the team's starting power forward immediately. And although her team struggled and Becky had to fight off a painful back injury in the second half of the season, she persevered.
The highlight of her junior season this year came when Columbia beat Yale - not once, but twice.
"This is the best," she hollered when she phoned us in Hawaii with the news from New Haven.
That's Becky. The best is what she's always trying to achieve. I'm very proud to be her dad. You can call me "Becky Hogue's Dad" anytime you wish.
Most Recent Comment(s):