Punahou Volleyball No. 1 In U.S.

By
.(JavaScript must be enabled to view this email address)
Wednesday - March 31, 2010
|
Share

Del.icio.us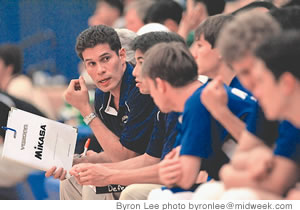 Rick Tune is coaching at his alma mater
While researching a story on Punahou boys volleyball coach Rick Tune, I found this entry on a Web site called ratemyteachers.com: "rick is such a good counselor! there's something about him that makes him easy to talk to and he's easy to get along with. he's helped me so much & I trust him with my life. thanks rick!!"
That anonymous - but very charming - entry by a former student says a lot about the easy-going former high school and local collegiate athletic star and what he's now doing as a teacher and counselor at Punahou.
Tune is one of those rare people who get a chance to grow up to teach and coach in the same school where they matriculated as a youngster. He was sixth-grader when he entered Punahou in the mid-1980s. Now he's a 35-year-old teacher and counselor there, and also the head coach of the No. 1-ranked high school boys volleyball team in the nation.
"I'm just fortunate to give back and to do something that I'm really passionate about," Tune says with great humility. The always genial, yet soft-spoken giant - he's 6 feet 6 inches tall - is proud of his longtime association with the Buffanblu. "Punahou is an extremely special place. It's different and it's unique and the people here are so talented. I just feel like I'm home."
The former Kailua boy made an impact as a high school student-athlete when he helped lead Punahou to a state volleyball title, as well as a third-place finish in the state basketball tournament as a senior. Then, he went on to play middle blocker for a University of Hawaii team in the mid-'90s that led the U.S. in attendance and played in front of near sellout crowds .
"That was volleyball in Hawaii at its peak," he says. "It was madness sometimes - the environment was crazy. It goes to show how amazing Hawaii fans are."
Tune then finished his career as a fifth-year senior at Pepperdine while working toward an advanced degree.
"I had a lot of mentors who helped me," he says, naming "Chris McLachlin, Marv Dunphy and Peter Balding. I read John Wooden, and I try to soak up as much knowledge as I can. I've learned to focus on the process rather than the product. That process is to do things that contribute to positive endings, like practicing hard and the right way, being a good person and being a good student."
That approach has led to tremendous success for the Punahou boys volleyball team. In Tune's first year as head coach three years ago, the Buffanblu went undefeated during the regular season and lost in the state finals to Iolani. Last year, they won the state title by beating Kamehameha in the finals and finished ranked No. 2 in the nation. This season, they started the spring at No. 3 in the nation, then went to the Mainland and beat second-ranked Loyola of Los Angeles and top-ranked Mira Costa in the 32-team Best of the West tourney, and came home to find themselves the new No. 1.
"It's been a whole team effort," he says.
Punahou has a number of exceptional players, including a couple who have already committed to play volleyball at the NCAA DI level next season: Taylor Crabb to Long Beach State and Henry Cassidy to USC. Both Crabb and Cassidy were named to the Best of the West all-tournament team, with Crabb earning MVP honors.
This week, April 8-9, Punahou will be the site of the first-ever Clash of the Titans tourney, featuring two outstanding high school programs from Southern California and the DI and DII defending state champions from Hawaii. Punahou and Hawaii Baptist are the host schools, with Corona del Mar and Newport Harbor in town from the West Coast.
"It's kind of like the beginning stages of what Iolani has in basketball with the Iolani Classic," Tune says.
Most Recent Comment(s):