Punahou's 'Pitbull' On The Mound

By
.(JavaScript must be enabled to view this email address)
Wednesday - April 07, 2005
|
Share

Del.icio.us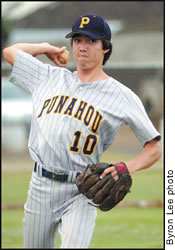 He's not overpowering, but
Jared Pate just keeps winning
Punahou's Jared Pate can pitch. Pure and simple.
Mild-mannered, easygoing, even gentle in his personality off the field, Pate becomes a pitching pitbull once he's on the mound.
Last year, as a junior, he was named the state's Player of the Year after leading the Buffanblu to the state high school baseball championship. In the state tournament, Pate pitched two complete game victories over a four-day period, including a 6- 0 shutout of Mid-Pacific in the title game, and was named the tourney's Most Outstanding Player.
This season, the senior fired complete game shutouts in his first two ILH starts, including a no-hitter against Kamehameha. It's still early, but Pate has already helped Punahou to the No. 1 ranking in the state.
"I'll admit I didn't expect this," Pate says, personifying his mildmannered off-the-field demeanor. "The ILH is always pretty tough. I just prepare and hope for the best."
And preparation is where Pate shows off his pitbull tenacity. While other players might come and go at practice, and step it up at game time, the 5-foot-11-inch 160-pound righthander takes his training regimen to a new level.
"I go to Sports Medicine Hawaii three times a week, Monday,Wednesday and Friday every week (even during the season)," Pate says. "I've been doing it since the summer before my ninth-grade year."
Sports Medicine Hawaii is an exercise and physical therapy clinic located in Honolulu and Pearl City.
"I work on everything from leg exercises to upper body (weight training) and small shoulder exercises to help maintain my (pitching) shoulder," he says. In between, he runs several miles a week to stay in top shape.
His trips to the clinic really came in handy during last year's state tournament, when the demands of a very long season had caused him to develop a sore arm.
"After the first game (a complete game 5-hitter in a 3-2 victory over Kaiser), my arm was really tight. The next day I could hardly play toss. I think I was starting to fatigue after the long season," he says.
Working with Punahou pitching coach Matt Apana, who guided him through stretching exercises, and Sports Medicine's Patrick Ariki, Pate was ready to go in the title game on just two days rest.
"They helped me get ready really quick. I felt really strong," Pate remembers. He finished his remarkable championship run with a 3-hit shutout, including six strikeouts and just one walk. For the season, he finished with a 7-2 win-loss record and a microscopic 1.87 earned run average.
Ironically, Pate's pitching prowess isn't due to an overwhelming fastball. He's not a power pitcher. He's been clocked in the low 80s and throws an array of pitches that includes two different types of fastballs, a curve, change and a hard slider. He describes his own version of a perfect game this way:
"Having control over all my pitches and being able to spot everything," he says. "Then, holding them to one or no runs. That'd be my idea of a perfect game."
Pate hopes to take his pitching perfection to the collegiate level. He's been talking college opportunities with the likes of Santa Clara, UC-Irvine, San Diego and Lewis-Clark State.
But Pate is more than just a baseball player. He's also an outstanding student who sports a grade point average of right around 3.5 (A-minus). And because of training regimen, he's developed a unique understanding of what makes his body tick.
"I think I've become pretty aware," he says. "If I feel I'm beginning to break down, I know the things to do to get myself back in shape. It makes me think of everything."
So what does this pitbull of a pitcher want for a career?
"I've been thinking about becoming a physical therapist or going into sports medicine," he says.
That's pitching phenom Jared Pate. Pure and simple.
Most Recent Comment(s):