Pushing To The Front Of The Pack

By
.(JavaScript must be enabled to view this email address)
Wednesday - June 04, 2008
|
Share

Del.icio.us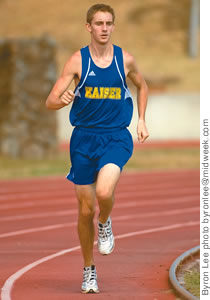 Dawson Vorderbruegge: a state 3,000-meter record of 8:58:14
Dawson Vorderbruegge ran away with honors at the recent Kaiser High School athletic banquet. And that should come as no surprise. Dawson has been running away from the field in both track and field and in the classroom almost his entire high school career.
This past month, just before he graduated from Kaiser, Dawson earned Scholar Athlete of the Year honors with a remarkable 4.06 GPA. That's straight A's plus a little numerical boost for taking college courses. If that's not impressive enough, Dawson also set OIA and state records in the 3,000-meter run.
In the state meet, his record-smashing performance was all the sweeter because the previous record-holder, Todd Iacovelli of Punahou, was on hand. Todd's record was 9 minutes 1 second - Dawson smashed the 9-minute barrier by winning in 8:58.14.
"He was there and he was cheering me on," Dawson remembers. "Then, he ended up handing me my medal."
The two outstanding runners have another thing in common. Todd finished his collegiate running career at Hawaii Pacific University as a graduate student (he was an All-Big 10 performer at Michigan as an undergrad). Meanwhile, Dawson's dad is the HPU athletic director, Darren Vorderbruegge.
Dawson moved to Hawaii from Missouri with his family two years ago and immediately made an impact on the long distance running scene. He and his dad often worked out together. "He's a good tempo partner," Dawson says. "My dad and I go trail running a lot during the off season." Their favorite trails are in the valleys and hills surrounding Hawaii Kai and East Honolulu.
Dawson became an outstanding cross country runner and won the OIA East title this past year before finishing 14th at the state meet. He vowed to do better once the track and field season came around in the spring. While many long-distance runners talk about the "runner's high," it was the drive to compete that kept him going during his 30- to 35-mile workout weeks.
"It comes down to the competition, especially the last 200 meters," he says. "I love that feeling of wanting to win so badly, of not wanting to give an inch until you cross the finish line. That's what drives me."
That fiery and competitive edge came in handy in at least one big race this spring. Dawson dueled Kensuke Taylor of Kailua High in the OIA East championships right down to the wire.
"He gave me a real gut check," Dawson recalls. "It turned out to be a total sprint on the last lap." Dawson won by less than half a second. "It's easy to race ahead of the pack and all by yourself. It's much tougher to see how tough you are," he says.
Dawson also has the unique perspective of comparing running styles between runners in the Midwest and runners in Hawaii. "It's two different racing styles," he says. "In the Midwest, they like to push from the start of the race and get out in front of the pack. In Hawaii, it's lay back at the beginning and then unleash your speed at the end. I think going out hard at first is gutsy, but sitting back and waiting is safer and smarter."
Running the smart way is what has made Dawson the state's top high school long-distance runner this year. Now, he hopes to take those smarts to the next level. "My dream is to qualify for nationals and hopefully take home a National Championship in (NCAA) Division II."
He is currently mulling over an academic and athletic scholarship offer to run track at Cal-State Stanislaus next year. (There is no men's track and field at the collegiate level in Hawaii.)
Then, one day, Dawson hopes to take those smarts and become a teacher. He believes what he has learned through all his hard work can eventually help others.
"You can push yourself and succeed," he says.
That philosophy has pushed Dawson Vorderbruegge of Hawaii Kai all the way to the front of the pack.
Most Recent Comment(s):