Put Coach Kajiyama On The Field

By
.(JavaScript must be enabled to view this email address)
Wednesday - April 11, 2007
|
Share

Del.icio.us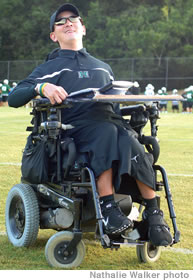 Brian Kajiyama: living with true
Warrior spirit
Brian Kajiyama says he doesn't think he's an inspiration.
But he is.
Every time Brian revs up his motorized wheelchair and heads out onto the University of Hawaii football field, every time he works into the wee morning hours breaking down game tapes, every time he writes specific reports to help the Warrior defense get ready, every time he does anything to help the UH football team, he inspires everyone around him.
"I'd say I'm more of a role model than an inspiration," Brian writes on his special voice computer.

He cannot speak his own words because of an accident at birth that eventually led to cerebral palsy. He diligently types out his thoughts and allows his computer to speak for him.
"I'm living my life the only way I know how," he says. "And each day, I'm cognizant that others might be watching me, so I always try to do my best at whatever it is I might do. And if inspiration stems from that, so be it, but I don't wake up each day saying 'OK, it's time to be inspirational.'"
For the past couple of years, the 30-year-old UH master's student has been helping the UH football staff break down game tapes. He was often in the office at 3 or 4 in the morning, and his work ethic so impressed Coach June Jones that he named Brian as one of the Warriors' graduate assistants for the upcoming season.
Brian assumed his new coaching duties at the beginning of spring football practice this month.
"Other people who hire should look at how open-minded Coach Jones was in recognizing that I could be an asset to his staff despite my having a significant disability," Brian says. "And I hope that this opens doors for other people with disabilities to get opportunities that they might not have had."
Brian says that he has always been a UH football fan.
"I used to go to the games with my dad, and when people would ask me what I'd like to do when I grow up, my answer always would be 'I'm going to attend UH and play on the football team.' Of course, being young I hadn't realized my limitations, and even today there are times when I forget I have a disability. I grew up watching the Noga brothers and David Maeva, and now I'm fortunate to be so close to watching a potential Heisman Trophy winner in Colt Brennan."
Brian graduated from Kailua High and then began his long journey through the University of Hawaii.
"It took me seven years and it was definitely a test in sticking with something," he says.
Eventually, he earned his degree and then started on a master's degree in educational counseling with an emphasis on vocational rehabilitation. He hopes one day to earn his doctorate.
"My thesis is on improvement through technology, and
I'm a living example of how assistive technology can enrich the life of someone with a disability," he says.
He calls his motorized wheel-chair his "legs" and says his special communication device is a godsend.
"I truly believe if I didn't have it now, I wouldn't be in this posit i o n because (previously) I was communicating via paper and pen."
Brian also gives thanks to his parents, Bert and Grace, "who have sacrificed so much to get me where I need to go," he says. And then there's defensive line coach Jeff Reinebold, a neighbor of Brian's in Kailua, who first suggested him for the job.
"He's my biggest supporter and advocate. I am so appreciative of that," Brian says with a smile.
Brian is hoping that his presence leads to another great season for the Warriors. Last year, he was given a game ball after the Warriors' 44-9 win over Eastern Illinois. But what Brian wants most is to be down on the sidelines with the other coaches.
"I'm on the sideline (at practice)," he says. "I've learned how to anticipate where the action will be so I don't get nailed. But for the games, I have to sit in the accessible seating area (in the stands) because Aloha Stadium has a policy of not allowing wheelchairs on the field. I respect that policy, but now that I'm officially part of the team I'm wondering if some augmenting is on the line."

That request certainly sounds reasonable, doesn't it? Especially for Brian Kajiyama, the Warriors' most inspirational coach.
"I recently spoke to a group of kids and told them, 'You don't need to be the biggest, or the strongest, you don't even need to run, but if you put all of your energy into a goal, you will be successful.' With a great family and great support system, I truly believe that I can do anything I set my mind to."
Could anything be more inspirational than that?
Come on, Aloha Stadium, let's reward Coach Brian with his own spot on the football sidelines next season. He deserves it.
Most Recent Comment(s):