Reaching Autistic Kids With Sports

By
.(JavaScript must be enabled to view this email address)
Wednesday - June 27, 2007
|
Share

Del.icio.us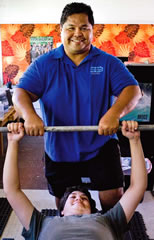 With sports, Nate Dudoit gives
kids a SPARQ
In the world of sports, there are heroes who make headlines, and then there are unsung heroes. These are people who work quietly day after day, helping those less fortunate, and they do it not for a headline, but for the love of sports.
People like Nate Dudoit. He works daily at Loveland Academy, a private educational institution in Honolulu that dedicates its existence to helping young people with special needs.
Dudoit, 47, is a former strength and conditioning coach from the Cal Lee era of St. Louis football. He also works with current athletes, such as all-state athletes Scott Smith and Solomona Augaimia, at Gold's Gym in Honolulu. But his full-time job is as a skills trainer and physical education teacher at Loveland.
"I'm a trainer for SPARQ - that stands for speed, power, agility, reaction, quickness," he says. Dudoit has taken some of what he has learned with SPARQ Training (a program that is also available at Gold's Gym) and applied it to helping some of the students at Loveland.
"It's really helped with the autistic students," Dudoit says. "Remember that story on TV a while back about the young basketball player (he was a manager for his high school team) who came off the bench and made all those 3-pointers in a row? If you remember, he suffered from autism."
Autism cases have greatly increased in the past several years. Autism is defined as a developmental disability that results from a disorder of the human central nervous system. It manifests itself through impairment in areas such as social interaction, communication, interests, imagination, and activities. The causes of the disorder, nor the reasons for the increase in cases and diagnosis, are not known.
"There are varying degrees of the disorder, and learning and playing sports seems to be a great way to reach them," Dudoit says. "Sometimes, they may seem to be in their own world, but if you put them in a situation and you find their trigger, it's so inspiring."
Dudoit's "trigger" is sports training.
"We have them running cones, lifting weights, catching passes. It's amazing what these kids can do once they're coached," he says. "I'm so inspired by them."
Another current local athlete helps Dudoit on a part-time basis.
"(UH Warrior) Solomon Elimimian comes almost every afternoon and works with the kids," Dudoit says. "It's been really big having him there. The kids all look up to him and he just gives the shirt off his back for them."
The students range in age from 13 to 18. One of the students plays in a youth football league, but most of the students had never been exposed to sports before.
"It's a very positive way to reach them," Dudoit says. "They've all learned that all this can be a part of their lives."
He says the students really look forward to the training every day. And they have fun.
"They can do the Icky Shuffle," he says with a smile in his voice. "The biggest compliment I could receive - and it's not what they say to me after they're done - but it's their spirit! It's a feeling I almost can't explain. It's in their being, their eyes, of accomplishment, their dedication."
Dudoit believes strongly that the SPARQ Training methods have made a difference. It's almost hard to tell who has grown more during the process, the students or their coach.
"These kids inspire me in every way," he says. "Although patience is extremely vital in their progression, the love and passion they bring to the class and in the weight room and on our ground courts, it's priceless to me."
That's why Nate Dudoit loves being an unsung hero.
For more information on his training methods, go to www.sparqtraining.com.
Most Recent Comment(s):