Ready For Another Championship

By
.(JavaScript must be enabled to view this email address)
Wednesday - August 01, 2007
|
Share

Del.icio.us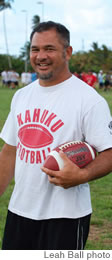 Red Raiders coach Reggie Torres
As Kahuku's Reggie Torres begins pre-season practice this week, he's excited. That's understandable considering what the Red Raiders' second year head football coach has already gone through.
Last year, in his first season at the helm, he guided Kahuku to the state Division I title. Torres says he's not an emotional guy, but the fact that his son Richard was the Red Raiders' starting quarterback made it even more memorable.
"Winning a championship is a special feeling," he says. "Everyone worked so hard and I was proud of everyone. I'm not a big celebrator, but when my son came and hugged me (at the end of a 7-6 victory over St. Louis), that was a golden moment."
This year, you should probably expect even more golden moments from the Red Raiders, who look to be even better.
"Honestly, we're going to be very competitive," Torres says. "We've got some big kids."
That's an understatement. When Kahuku takes the field in its first scrimmage next week (Friday, Aug. 10) at Kamehameha, the Red Raider offensive line will be monstrously big. From tackle to tackle, Kahuku averages well over 300 pounds per man!
Left tackle Danny Kinikini is 6-feet-3-inches tall and 305 pounds, left guard Semiu Tonga is 6-foot-2, 290, center Benji Kemoeatu is 6-foot-5, 340, right guard Anthony Siilata is 6-foot-1, 325, and right tackle
Patrick Au is a Bunyanesque 6-feet-9-inches tall and 320 pounds.
That line is not only gargantuan, but most all of the players are being highly recruited. Kemoeatu is the most coveted. "He's getting interest from USC, LSU. Notre Dame, Florida and several others," Torres says.
Running behind that huge line will be yet another outstanding runningback. Junior Mataafa carries on the tradition of great Kahuku runners.
While the offense should be solid, Kahuku's real strength is on defense. "That's our biggest skill area," Torres says. The thought of that should make opposing OIA coaches shudder.
The Red Raiders are especially deep at linebacker. Highly-recruited Paipai Falemalu, at 6-foot-4 and 220 pounds, and Alema Tachibana, at 6-foot-3 and 205 pounds, lead the way, along with Kulia Pickard and Kaena Adolpho.
But the most impressive defender could be strong safety Shilo Te'o.
"He's being heavily recruited," Torres says, mentioning several big name schools in the Te'o hunt, including BYU, Hawaii, USC, Oregon State, LSU, Utah, Arizona, Florida and Notre Dame.
"We've got some really good players this year," Torres says. "Hopefully, it will mean we won't have to rely on so many last-minute heroics."
A year ago, Kahuku pulled out a miraculous last-second win over Baldwin in the state semi-finals, then edged St. Louis in the title game with a touchdown and extra point in the final 23 seconds of the fourth quarter.
The Red Raiders will get a re-match with the ILH Crusaders very early. The Kahuku-St. Louis game kicks off the 2007 pre-season at Aloha Stadium, Sat. Aug. 18. Two weeks later, Kahuku travels to the Mainland Sept. 1 to battle Utah state champion, Bingham High School.
Torres is a taskmaster. He's established tough rules and criteria for all of his players as they head to the practice field.
"We don't cut anybody," he says. "They cut themselves, if they don't meet all the requirements - that means good grades and staying out of trouble."
Trouble is more an operative words for the opposing teams this year. There's no doubt Reggie Torres will have Kahuku more than ready for yet another exciting high school football season.
Most Recent Comment(s):