Red Raider Nation Will Rise Again

By
.(JavaScript must be enabled to view this email address)
Wednesday - August 10, 2011
|
Share

Del.icio.us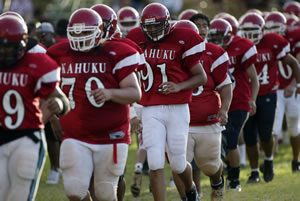 Hawaii state football champions Kahuku Red Raiders during their traditional Red White Spring Game in 2006. Barry Markowitz photo
I took a drive to the North Shore of Oahu earlier this month. It was a beautiful day, with clear, blue skies, puffy clouds and trade winds sending out their wonderful cool breezes. The ocean was a gorgeous shade of turquoise along the coastline, and the coconut palms swayed happily, as if they were greeting every tourist who drove by.
In Kahuku, I passed the picturesque St. Roch Catholic Church, and slowed for the car ahead of me to pull into the Kahuku Superette, and then marveled at the long lines in front of Giovanni's Famous Shrimp Truck.
All of these places make me appreciate Kahuku, but what really makes me think of this small community along the northern tip of Oahu is Red Raider high school football. All I had to do as I finished my ono plate of shrimp scampi at Giovanni's was to look out across Kamehameha Highway to realize what football means to this tiny town.
There, on the grassy turf, dozens of young gridiron standouts went through their warm-up drills as they readied for yet another season. Kahuku, with the largest roster of any Hawaii public high school, opens up its 2011 campaign on Friday night, Aug. 12, at Waianae.
It's always an exciting time for the school, but this year, perhaps more than ever, there is a sense of urgency. The tragedies of 2010 the forfeiture of its football victories last season because of the unfortunate use of an ineligible player, the decision that forced them to be unable to contend for a conference or state championship, followed soon thereafter by the untimely death of one of its most popular young stars were all incredibly difficult pills for this proud community to swallow.
In Kahuku, they expect greatness from their football program. In the first eight years of the HHSAA Division I State Championships, the Red Raiders won five of them. But it has now been five long years since the Red Raiders piled on in celebration on the turf of Aloha Stadium after winning a state title. Not since 2006, when Richard Torres threw a last-second touchdown pass to beat Saint Louis, 76, in dramatic fashion has Kahuku won the overall championship.
Five years seems like a lifetime to many of the Red Raider faithful.
But this town has produced a legacy of stars, and has a tradition of a winning legacy. Greatness is almost expected. From Mark Atuaia and Itula Mili and Muluvai Pula and the late Waika Carvalho to the 15 Kahuku players who have played NFL or professional football Junior Ah You, Tala Esera, Toniu Fonoti, Aaron Francisco, Lakei Heimuli, Chris and Ma'ake Kemoeatu, Mili, Chris Naeole, Tevita Ofahengaue, Leonard Peters, Al Afalava, Robert Anae, Tim Manoa and Al Lolotai Red Raider Nation has a lot to be proud of.
So, as I watch from afar, admiring the hard work and hard sweat that the young men of today's team are toiling through, I'm reminded of a couple of famous quotes I've heard over the years. "Tough times never last, but tough people do." And "the true test of a person's character is how they stand during the test of adversity."
Perhaps they are cliches, but in these early days of August when bitter last season memories or fresh summer training controversies pop into a young football player's mind, maybe it's those kinds of sayings that keep the ever-present hopes and dreams alive.
I smile to myself as I take leave on this warm August afternoon of this little taste of what we call "country," knowing that 2011 is a new season. It's a time where "Unfinished Business" might be the motto of this year's team. I'm confident that very soon the Red Raider Nation will proudly rise again in triumph.
That's the way of life in Kahuku.
Most Recent Comment(s):