Remember The 'No Give Up' Titans

By
.(JavaScript must be enabled to view this email address)
Wednesday - July 05, 2006
|
Share

Del.icio.us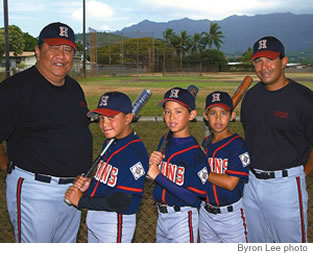 From left, Malcolm Lee Sr., Kekoa Kaluhiokalani Jr., Stephen
Lee Jr., Matthew Lee and Stephen Lee Sr.
The Hawaii Titans have a motto: "No give up!"
It's a motto that this traveling youth baseball team has used through more than 40 games this year, no matter where they play the games.
"We've been playing since October, non-stop," says team manager Stephen Lee.
The Titans are a team of 13 youngsters between the ages of 9 and 11 who hail from Waianae, Kaneohe and Waimanalo. They have no home field; they play their games in Mililani, Ewa Beach, Kahala and all over the Windward side of Oahu.
And this month, July 15-22, they take their travels to the Mainland where they will participate in the 11-and-under National AAU Baseball Championships at the Disneyworld Baseball Complex in Orlando, Fla.
"I took an 8-and-under team to North Carolina three years ago," says Lee. "It's a chance to inspire the kids, to show them the kind of talent on the Mainland, and it helps them want to compete even more."
Lee does it because he loves game and the kids. His two sons, Matthew, 10, and Stephen, 9, are members of the Titans.
"These kids work really hard," he says. "We've got the kind of kids who had never been on an all-star team; some experienced, some beginners. We don't turn anyone away."
Lee, now 33, has lived with the motto of "No give up!" his entire life. From his high school days as a star pitcher at St. Louis to his college days as a relief pitcher and closer for former Waianae ace Kekoa Kaluhiokalani at baseball powerhouse Lewis-Clark State, Lee pushed himself hard.
"I grew up in Waimanalo," Lee recalls. "Baseball meant the whole world to me. I played for my father (Malcolm) and played alongside players like Corey Ishigo and Kenny Harrison. I was never a hard thrower, so I had to work hard."
When his college playing days were over, and after he received a degree in criminal justice at Lewis-Clark, Lee came back to the Islands and became a corrections officer. But he wanted to help the people he dealt with on a daily basis even more.
No give up, he probably said to himself.
"I went back to school and got my master's degree," he says.
Now Lee is a psychiatric social worker at OCCC.
But during his off-time, Lee's life still revolves around baseball. In his new hometown of Kaneohe, he started his own youth team. And he kept up his friendship with Kaluhiokalani. Today the former Waianae star is Lee's assistant coach. The other assistant is Lee's father, Malcolm.
"You know, it's a great feeling being around them," Lee says. "After each game, we get together and talk about the kids. Every kid has his own personality and way of competing."
Lee and his coaching staff stressed more than just the fundamentals of the game. They wanted to form a team bond.
"We had a couple of cam-pouts," he says. "One time, they all camped over at my house and we also camped at Bellows. The time together really brought us together and created that real team bond."
The Titans (and their families) also learned how to fundraise for their big trip to the Mainland, selling everything from Huli Huli chicken to Zippy's Chili to Menehune Mac cookies.
"The kids really learned from all those experiences. It was exhausting, but fun. They went house-to-house; they learned how to be confident and speak well. They answered questions and they became good salesman. People were impressed and very supportive."
Lee is hopeful that the trip to Florida this month is a good one because he has plans for another big baseball adventure next year - to the baseball Hall of Fame.
"We're hoping to go to Cooperstown," he says.
The Hawaii Titans keep on traveling. No give up!
Most Recent Comment(s):