Running Ahead Of Killer Asteroids

By
.(JavaScript must be enabled to view this email address)
Wednesday - December 02, 2009
|
Share

Del.icio.us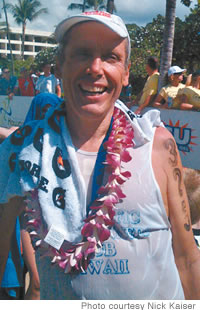 Nick Kaiser after a recent race
Fifty-five-year-old Nick Kaiser of Kahala has an unusual occupation. He hunts for killer asteroids.
"I'm an astronomer with the Institute of Astronomy (connected with the University of Hawaii)," he says. His job is to utilize the project's new telescope to try to discover if there are asteroids or comets that might strike Earth.
"The Earth is hit by little things all the time," he explains. "But every 100,000 years or so something big - maybe as large as a football stadium - can hit us. It's very unlikely it could happen, but the results are catastrophic. Our telescope will allow us to find all the rocks in the solar system that are larger than a football stadium and determine if they are any threat to Earth."
If that sounds like a bit part in a disaster movie, consider that the only real disaster in Kaiser's life right now would be if he wasn't able to run and compete.
"I was counting the other day, and in the last four years, I figured I've done 35 marathons," he says.
This Sunday, Dec. 6, he's hoping to run in the XTERRA Trail Running World Championship at Kualoa Ranch, a gnarly 13.1-mile half-marathon that climbs through the trails behind Kualoa up to an elevation of 3,000 feet and then dives into dense rain forests.
"That's the plan," he says. "Unfortunately, I recently suffered a stress fracture in my foot. I'm hoping to get the doctor's OK."
Running in long-distance competitions has become a way of life for the native of Sheffield, England, who in 1997 moved to Hawaii from Canada. "I've always been a jogger," he says. "In 2004, I was home in England and I joined a running club that ran around the moors a couple of times a week. I entered a couple of races and discovered I was pretty good at running, as long as it was long distance."
Five years ago, he qualified for his first Ironman - yes, this hunter of killer asteroids also does triathlons. He says he hasn't counted how many of those he's entered, but it's added to his total of 35 marathons.
He'd like to compete back-to-back in the next couple of weeks, running the XTERRA championship one weekend and the Honolulu Marathon the next, but "that depends on my doctor," he says.
He says the serenity of running is what keeps him going. "It's nice and relaxing. You just take it slow and steady and you see some beautiful places."
He says his favorite run of all time was a 100-kilometer race around Mount Blanc in Italy. For training, he runs regularly around Diamond Head or up in Tantalus.
The XTERRA Trail Running World Championships is held in conjunction with the XTERRA Trail Running Series, and is open to all comers. Besides the half-marathon, there also will be shorter distance runs - such as a 5K and a 10K - plus races for kids and even what is called an "adventure walk" for those who want to discover the place where Jurassic Park, Windtalkers, Godzilla, 50 First Dates and episodes of Lost were filmed.
"XTERRA Trail Runs give runners an opportunity to explore some wildly natural environments and challenge Mother Nature's diverse and unique offerings, from roots and rocks to stream crossings and unexpected scenic vistas," says Janet Clark, president of TEAM unlimited/XTERRA.
Top international runners will be joined by hundreds of local runners for this once-in-a-lifetime experience.
For more information, check out http://www.xterratrailrun.com or contact the XTERRA office at 808-792-2603.
Nick Kaiser hopes to be there, if he's not out hunting killer asteroids, and more importantly, if his doctor says "go for it!"
Most Recent Comment(s):