Sacred Hearts' Sharpshooters

By
.(JavaScript must be enabled to view this email address)
Wednesday - July 20, 2011
|
Share

Del.icio.us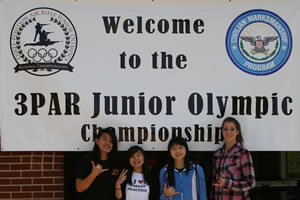 (from left) Danielle Ho, Sara Tashima, Laurie Tam, Kristie Thornburg
Sara Tashima may be all of 5 feet tall, and only 14 years old, but on a recent day in Ohio the Sacred Hearts ninth-grader from Kalihi towered over her nationwide competition.
"I'm proud of my shortness," she says with a smile.
Despite only starting the sport of air riflery 10 months ago, Tashima moved steadily up the ladder in junior varsity competition as a high school freshman, and made the trip with fellow members of the Lancers varsity state championship team to the NRA Air Riflery Three-Position National Championships at the end of June. There, she won a gold medal in the prone division by hitting 40 of 40 of her targets, including 38 of 40 center-X's or deadcenter perfect shots. Later, she also had a perfect shooting round at the National Junior Olympics.
"She took the nation by storm. Everyone was shocked," says her recently retired high school coach Carlton Lum.
"She's a natural," adds Guy Chun, the new Sacred Hearts coach.
Air riflery is a combination of focus, concentration and mental discipline, according to the coaches. "Generally, people who are good students tend to concentrate more and tend to be good shooters," Chun says. "Sara is very focused, a good listener and very intelligent."
Tashima definitely had those important qualities when she took a chance on the sport "so I could get P.E. credit," she says. Then, she found out she liked it.
"It's really fun!" she says. Tashima is an outstanding student she has a 4.2 GPA by taking honors courses at Sacred Hearts, and when I asked if that meant all A's, she says "except for that one B+ in geography," and then she giggles.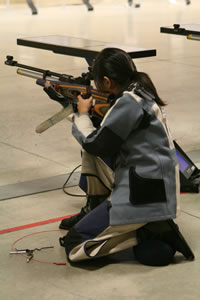 Sara Tashima. Photos courtesy Sacred Hearts Academy
"Sara is like any other high school freshman, but she also concentrates very well," says Lum. "It's not who runs the fastest or jumps the highest, it's who concentrates best!"
Her amazing shooting effort at nationals did not go unnoticed. A number of college coaches were on hand to watch the national competition, and when word got out, they came to see Sara.
"My coach told me the coaches from Ohio State, Kentucky and MIT came to watch me," she says. "That made me very happy because I would really like to go to MIT."
"The coaches were surprised to hear that she was only a 14-year-old freshman, which means they can't talk with her yet (NCAA rules), but they definitely took notice," Chun says.
Other outstanding Sacred Hearts shooters are Kristie Thornburg (reigning state champ), Danielle Ho and Laurie Tam. Several former Lancers have earned college scholarships, including Haunani Akana (Nevada).
Tashima hopes she has a college scholarship in her future, too, but also recognizes that she has a long way to go in high school. She doesn't turn 15 until next month, when she also starts her sophomore year at Sacred Hearts.
"It's a great all-girls school and a great experience," she says. "It really shows 'girl power' and that we girls can accomplish anything."
Most Recent Comment(s):