Scoring Big For The New E-school

By
.(JavaScript must be enabled to view this email address)
Wednesday - January 24, 2007
|
Share

Del.icio.us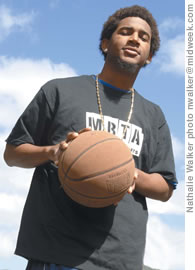 Tristan Sealy is averaging 25 points
for Thompson
The leading scorer in Hawaii high school basketball this season plays for a school you've hardly ever heard of. Thompson Academy has no gym, it has no court, and with the exception of its offices in Honolulu, it really has no classrooms.
But the public e-school academy still had a varsity basketball team for the past two years, and until this season the Sharks had never won a conference game.
Now, with Waikele's Tristan Sealy enrolled as a senior, Thompson is not only winning this season, they're a threat to win a state championship in the new Division II state tournament.
"We made history and it feels good," Sealy says. "Winning our first game put us on the map."
Sealy also put the Sharks on the map this season. The 6-foot-3-inch senior guard is averaging 25 points a game with a season high of 31.
"He's very unselfish out there," Thompson's head coach Sol Batoon says. "He sees the court real good."
Sealy played for Batoon two seasons ago at Campbell, helping the Sabers to the state's Division I semifinals. When Batoon left the school in Ewa Beach after turning the program into a winner, Sealy asked to follow. Batoon told him to wait.
"He had some academic issues to take care of," Batoon says. "It was a difficult switch, considering the type of program Thompson was. I knew it would be a major adjustment."
Sealy played one more year with the Sabers, but after his junior season he knew he had to make the change.
"My academics weren't going too well (at Campbell)," Sealy says. "It was a hard decision to make, (but) being at Thompson was an opportunity. All the classes are online, so you can go on the school Web site and move at your own pace."
In that environment, Sealy has turned his academic future around, taking classes such as oceanography, psychology and British literature. He knows that if he succeeds there that a Division I college basketball scholarship is his for the taking.
"I'm looking to go to Northern Arizona," he says. "They offered me a full-ride scholarship. I know I have to pass all my classes to get eligible, so I know what I have to do. It's a dream come true to play college basketball."
Sealy impressed the Northern Arizona staff this past summer when he followed Batoon to a basketball camp at the Flagstaff school.
"He played ball for 10 hours a day," Batoon recalls. "(Before the camp), he could never dunk the basketball. Before too long, he was playing above the rim. He opened some eyes and I think he even surprised himself."
Right now, Sealy's sights are on the OIA White division crown. Thompson is winning, and Sealy wants to keep it that way.
"It's been kind of frustrating at times," he says.
"I came from a very talented, very skilled (program at Campbell). Here, it's different. I have to be a leader. I can't get down on them, and I can't get down on myself and let them see it."
The experience has not only led to victories for the Sharks, and big point totals for Sealy, but something far more important.
"I think I'm a better person," Sealy says. "I used to get down on myself and let little things affect me. I feel better about myself."
That confidence has blossomed at Thompson Academy, the e-school that has definitely placed Tristan Sealy in the real world.
Most Recent Comment(s):