Seeking Video Of UH Super Fans

By
.(JavaScript must be enabled to view this email address)
Wednesday - August 06, 2008
|
Share

Del.icio.us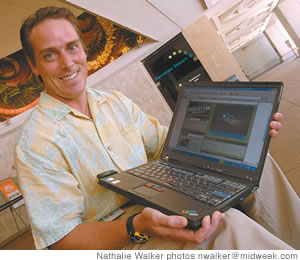 Chris Archambault: a YouTube-style approach for UH super fans. Call it UH-Tube
So you think you're the biggest or the wildest or the craziest University of Hawaii football fan?
Well, prove it!
In these days of YouTube and MySpace and all things Internet, there's a contest that allows you to showcase your Warrior fanaticism via video and share it with everyone else on the Web.
The contest - which is going on now until Aug. 31- is the brainchild of the marketing department at Hawaiian Telcom.
"The Warriors are coming off an unbeaten season, the Sugar Bowl and unbelievable excitement. We wanted to find a way to give back to our customers and UH fans, and we thought this was a great way for the fans to showcase themselves and get something in return," says Chris Archambault, the company's interactive marketing manager.
The video contest - which allows everyone to vote for their favorites - is available by going to http://www.hawaiiantel.com/warriors. You can upload your videos right there. The video that receives the most views and the most votes wins a grand prize of a UH football 2008 season ticket package for two. A grand prize also will be awarded randomly from those who either submit a video, share a video with a friend, or vote on a video. Other prizes, including hotel packages and Oahu getaway destinations, also are available.
Archambault says the web-site is getting a great deal of action as the excitement builds for the 2008 football season opener. The Warriors open on the road at powerful Florida Aug. 30, and their home opener at Aloha Stadium is against Weber State Sept. 6. The winner of the contest will be announced Sept. 1.
"We've got lots of folks sending in videos with their families and their kids, and it's fun to see when everybody dresses up in jerseys or like cheerleaders," he says. "And it's really neat to see the videos coming in from overseas. Some people like to talk about their favorite UH teams or their favorite plays or favorite players."
He says some fans have gone to great lengths to showcase their fanatical talents.
"One guy built a mock Sugar Bowl in his back yard, complete with team helmets and emblems in the endzones. His video is edited so that it shows the whole process of building it, and he even has music," Archambault says.
Music can set a video apart from the rest of the field, especially it's original. "Someone put together a rap song - it was really funny," he says.
But the marketing manager says it's not always about how elaborate your video is - the fans will decide who is best.
"There's this one really cute video with a dad and his baby," he says. "When he asks if he loves the Warriors, the baby coos. But when he asks if he loves the Bulldogs, the baby cries!"
Archambault, 35, has been working with Hawaiian Telcom for three years now. He's a former web designer from Boston, who moved to Hawaii with his wife Noe, who is originally from Haleiwa. Archambault was a collegiate soccer and lacrosse player in his home state of Massachusetts, but now he's become a dedicated UH football fan himself.
"I've become a bigger college football fan and a bigger Warrior fan since living in Hawaii," he says. "It was like a fever pitch last year and we went to many more games, and also brought our friends and families with us. We're really looking forward to how they do this year - I know I'm very excited."
You can show your excitement, too, by uploading your most fanatical and most creative video to http://www.hawaiiantel.com/warriors. Or you can support your favorites by going to the website and voting, and like American Idol and other results-oriented shows, you can vote as often as you wish.
Have some fun - show just how big a UH fan you are.
Most Recent Comment(s):