Sharon's Ride For Epilepsy Support

By
.(JavaScript must be enabled to view this email address)
Wednesday - January 04, 2012
|
Share

Del.icio.us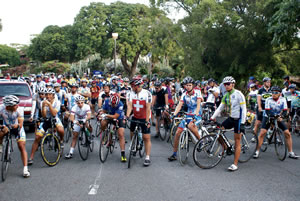 Cyclists ready for the ride. Photo courtesy Epilepsy Foundation of Hawaii
There are so many great sporting events on Oahu in January from the Sony Open to the NFL Pro Bowl to WAC and PacWest basketball and high school sports, and much more. But one of the fastest-growing sports in which you can participate this month is Sharon's Ride-Run-Walk for Epilepsy.
"You may not know it, but you probably know somebody who has epilepsy," says Nancy Brown, executive director of the Epilepsy Foundation of Hawaii. "More than 15,000 people in Hawaii suffer from it. We hope you'll come out and support them."
This is the 10th anniversary of Hawaii hosting Sharon's Ride, which started as a cycling event in the Midwest. Honolulu is one of seven cities nationwide to participate. "Sharon (Rosenfeld) was a nurse and teacher who worked with epilepsy patients, and when she was tragically killed in a bicycle accident, her brother started Sharon's Ride to honor her and also raise awareness about epilepsy," says event spokeswoman Rae Sojot, whose husband, championship swimmer John Flanagan, has biked in Sharon's Ride for many years.
This year, the ride has expanded to a Ride-Run-Walk and will feature bike rides of varying distances (35K, 75K and 100K to either Kalama Valley or Kailua), plus 5K and 10K runs, and a one-mile walk. There is also a fun keiki bike safety course and educational offerings. All the events begin at 7 a.m. Sunday, Jan. 29, at Kapiolani Community College.
"We've come up with a great slogan: 'The Secret is Out.' The cyclists really like it because it makes it a special bike ride. But it also helps people understand the stigma of epilepsy," says Brown. "There are so many myths and misconceptions about epilepsy, and in many ways it's still in the closet. We want to let people who suffer from it know that they are not alone."
Brown has a very personal interest in making sure the secret's out.
"My son Daniel has epilepsy. He's had it since he was 11 years old when he was struck with viral encephalitis and was induced into a coma due to the bad infection," she says. "(Over the years), his seizures have been difficult to control. In 2009, he was selected for a (special project) where they inserted electronic implants into his brain to help him. He's 24 now and still has seizures, but much less."
Her son's story is indicative of the many ways that funds raised for the Epilepsy Foundation of Hawaii through events like Sharon's Ride are spent. Dollars also go toward research, direct services, assistance for families and so much more.
"Epilepsy is still kind of in the shadows," says Sojot, who has been working hard to get the word out about the 10th anniversary of the ride. "(In the past), it's hovered around 300 to 350 participants, but we've really focused on teams this year, and we eventually want to get it to (more than 1,000). We're getting out to more cycling clubs and also the nonconventional riders and running clubs and triathlon groups. We're really trying to bring the community together."
Entry fees for the Ride-Run-Walk range from $30 to $40. You can register online at active.com or at the foundation's website, hawaiiepilepsy.com, or you can call Nancy Brown at 528-3058 for an application or more information.
The secret is out with Sharon's Ride-Run-Walk. Now it's your turn to pedal, race, jog or stroll to help raise awareness of the fight against epilepsy.
Most Recent Comment(s):