Shoji Swings Into A New Season

By
.(JavaScript must be enabled to view this email address)
Wednesday - March 08, 2006
|
Share

Del.icio.us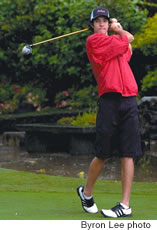 Kawika Shoji: from team sports
to an individual sport
The last time we saw Kawika Shoji, he was helping his Iolani "One Team" hoist the championship trophy at the Hawaii High School Athletic Association boys basketball state tournament. The trophy marked the fifth straight state title for the Raiders and the third time that Kawika has been an integral part of the team.
During this year's tourney, Kawika scored in double figures in three straight Iolani victories and was deservedly named the tournament's Most Outstanding Player.
"Everyone on the team was focusing on improving every day," Kawika says. "We didn't care about streaks, and didn't care about whether people thought we could win or not. What we did care about was that we came together and learned how to win as a team."
His follow-up comment to that statement underscores Kawiki's strong support of Iolani's "One Team" philosophy.
"Our 'One Team' was the real tournament most valuable player," he says. "No one individual made it happen."
And true to that philosophy, Kawika didn't spend much time resting on his laurels.
"(Afterwards), the whole team came over to my house and we watched the replay into the early morning hours," he recalls. "It was pretty mellow, actually."
Perhaps the celebration had to be mellow out of necessity. That's because Kawika was already moving on to his next sport. For the fourth straight year, he's a member of Iolani's ILH championship golf team. On the Monday following the Friday night basketball title game, Kawika would need to be ready for the first ILH golf tournament of the season.
"I hadn't played (golf) for weeks," he says. "I practiced Saturday, chipping and putting, and then I played three holes for fun on Sunday."
Then, he went out on Monday at Waikele and accomplished something that must be considered quite remarkable.
"I shot a 75," he says. "I was pleasantly surprised."
Moving seamlessly from one sports season to another is something with which Kawika has some experience. For the past four years at Iolani, Kawika has played volleyball, basketball and golf at the highest competitive level. As a volleyball star, he helped lead Iolani to a state title as a sophomore and state runner-up this year. He was also a member of the Outrigger Club team that won a national title this past summer. Because of his exceptional volleyball talent, he's accepted a scholarship to play for Stanford next year.
"Competitive Division I program, amazing education," he says of his collegiate choice.
But Kawika says the adjustment from basketball to golf is much tougher than the transition from volleyball to basketball.
"(In basketball), if I don't have my shot, I can still rely on my quickness and athletic ability," he says. "But golf is so much more difficult because it requires so much finesse. Golf is totally different physically from volleyball and basketball because it requires so much mental toughness."
Kawika's own mental toughness in the sport was developed at an early age.
"I've been golfing since I was 5 years old and playing in tournaments since I was 9," he says. "I remember my grandpa and my dad (Wahine volleyball coach Dave Shoji) taking me up to Oahu Country Club when I was very little. They let me hit balls on the range and then late in the afternoon, when most everyone was off the course, they let me hit the ball (out on the fairway and on the greens.)"
That memory made an indelible mark on the rising sports star.
"It was so exciting to be out on the golf course with my grandfather and father playing a game I loved," he says.
Kawika loved it enough to fashion a personal-best round of one-under par, and last season he was named all-ILH second team.
But to this day Kawika Shoji, who has been all-state in both volleyball and basketball, and who has a chance to earn an unprecedented third sport all-state accolade this golf season, can't pick his favorite sport.
"I never loved one sport over another," he says. "I've loved all three equally and I just love representing Iolani School."
Most Recent Comment(s):