Singing The Praises Of Legion Ball

By
.(JavaScript must be enabled to view this email address)
Wednesday - July 18, 2007
|
Share

Del.icio.us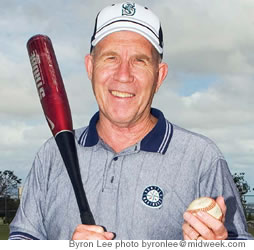 Peter Elson: American Legion state tournament happens this week
When I was growing up, I remember hearing my father's stories about playing American Legion baseball. I knew from his stories and from the names of players who had gone on to play in the Major Leagues that Legion ball consistently showcased the best in teenage baseball talent - something it has continued to do for decades.
My dad was a tremendous ballplayer - he was offered contracts by both the New York Yankees and New York Giants to play minor league ball in the late '40s - but he was always proudest of his time playing American Legion ball in Arizona. He talked almost glowingly of getting to the Legion regional championship game where his Phoenix team lost to Oakland in a one-run loss that was as competitive as any game he'd ever played in. That Oakland team went on to win the American Legion World Series that year (1949).
By the time I was a teenager, my dad was my American Legion coach and I was one of only two 13-year-old players to get a shot to play with guys much older - the league age range at the time was usually between 15 and 18. While I had my moments as an American Legion star - even hitting over .400 my final season - that other 13-year-old went on to much greater heights. His name is Gary Carter, and after a stellar Major League career, he's now in the baseball Hall of Fame.
Here in Hawaii, youngsters who play American Legion baseball each summer are building their own personal storybook. It won't be too long before they'll look back at their own careers and remember when they played in great games or with ballplayers who went on to achieve great fame.
This week, the American Legion - now for players between the ages of 15 and 19 -will be playing the Hawaii state tournament at Central Oahu Regional Park (CORP) July 18-22. Games each day and evening begin as early as 4 p.m. The championship game will be played Sunday morning at 11.
"We've got a 20-team league and the top eight teams take part in the tournament," says Peter Elson, the American Legion state commander. Elson is a former special education teacher at Waianae High School who has been the announcing voice for Waianae athletic events for years.
"We've got some great teams," he says. "Most of the teams (from Waianae to Kailua and everywhere in between) are made up of players who played in the OIA and the ILH. It's also a great opportunity for younger J.V. players (to hone their skills) before coming up to the varsity the next season."
The American Legion, a prestigious veteran's organization that has been around since World War I, started sponsoring baseball teams, leagues and tournaments in 1925. Over the years, Hawaii teams have won two American Legion World Series titles - Aiea won the title in Fargo, N.D., in 1995, and Honolulu won the championship in Boyerstown, Pa., in 1980. Future New York Mets' star Sid Fernandez was voted the Most Outstanding Pitcher in that '80 World Series.
This year's World Series will be played in Bartlesville, Okla., from Aug. 24 to 28. The World Series is made up of regional tournament champions. The Western regional -where the Hawaii champion advances - will be played in Kearns, Utah, Aug. 16-20.
This year's Hawaii champ will have a strong legacy to follow.
"Last year, our champion was Kalani and they went on to finish second in the Western regional," Elson says. That Kalani team had a tremendous year, finishing with a record of 21 wins and only one loss in Hawaii state play.
Hawaii also was well-represented when it came to post-season honors last year. Reid Nakamura of Aiea was named the Western Region Gatorade Player of the Year.
This week, at CORP, new legacies will emerge. It's all about American Legion baseball, still one of the best baseball leagues around.
Most Recent Comment(s):