Sisters Of The Blown-out Knees

By
.(JavaScript must be enabled to view this email address)
Wednesday - September 20, 2006
|
Share

Del.icio.us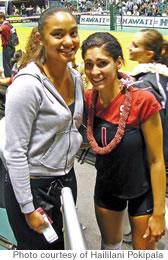 Haililani Pokipala meets Cynthia Barboza
On a recent Saturday night, 16-year-old Haililani Pokipala rushed out of her home-court gym after leading the Sacred Hearts varsity volleyball squad to a straight-games victory over Saint Francis. Haililani was in a hurry to reach another volleyball match, but not as a player- this time it was to meet a new friend.
That new friend is Stanford volleyball sensation Cynthia Barboza, a college star so impressive she would go on to win MVP honors when her nationally ranked Cardinal team overpowered the Hawaii Wahine in three straight games. Their first meeting would come after the match.
"I was so nervous," Pokipala recalls.
Barboza and Pokipala shared something more in common than their love of volleyball. A year earlier, in October 2005, both young women suffered season-ending ACL knee injuries. In Pokipala's case, the blowout to her anterior cruciate ligament occurred in a late-season ILH-match against Maryknoll.
"It was my first game back after an ankle injury and I just thought someone had kicked me. I was really mad," recalls the 5-foot-10-inch outside hitter. "I thought I would be OK until I had an MRI and then they told me it was my ACL."
Only seven days later, the same agonizing injury befell Barboza when the former national high school Player of the Year fell awkwardly after making a kill against arch-rival California. Like Pokipala, the devastating injury meant that her season was over.
Most excruciating for both players was the knowledge that the injury would take six to 12 months to heal, and only then after weeks and months of painful physical therapy, plus intense conditioning and strength training.
After watching her Sacred Hearts team reach the Division II state tournament last year, but fall short in its bid to win the title that would go to league rival Saint Francis, Pokipala worked hard on her rehabilitation. "It was so hard not to play," she says, "but
I came to every practice to support the team."
The operation and then her physical therapy and weight training regimens last winter were also hard, but Pokipala found an unusual way to lift her spirits. She went on the Internet and found other volleyball players who had also suffered similar injuries, including Stanford's Barboza.
"At Christmas, I wrote to her as a way to cheer both of us up," Pokipala says. "I also wrote several other people."
Nearly eight months later, Pokipala was finally back on the volleyball court, helping her ASICS Hawaii 16-under team win a silver medal as the national runner-up at the Junior Olympics in Atlanta. When she came home from that trip, she had other exciting news waiting for her. It was a return letter from Barboza.
"She apologized for her late reply, but she wanted me to know how much it meant to her when she received it," Pokipala says. Barboza told her about her own rehabilitation and also said she hoped to meet her Sacred Hearts counterpart when Stanford came to Hawaii in September.
"So many girls have experienced this type of injury," says Pokipala's father, Haili. (Most all the girls she wrote to also wrote back.) "Unfortunately, it's so common place, so draining, and so depressing. But they all learn that it doesn't have to be the end of the world."
This volleyball season, Pokipala is back on the court playing for an undefeated Sacred Hearts team that has a good chance to win this year's D-2 state title. At 5 ft. 10 in., and with tremendous leaping ability, she's also once again receiving college recruiting letters. Her goal is to earn a college volleyball scholarship, just like Barboza. On a recent Saturday night, she watched the young Stanford star show what it's like to come all the way back.
"(Afterwards), I gave her a lei and she told me about her struggles through the rehab process," Pokipala says. "It was great to meet her. Through it all, I learned that you don't give up. I think I'm a stronger person now. (And to watch her) make MVP gave me even more confidence."
For Haililani Pokipala, working and succeeding through this ordeal proves that her own volleyball star is also on the rise. Along the way, she's also made some very special friends.
Most Recent Comment(s):