Sleep Can Come Later For Coach

By
.(JavaScript must be enabled to view this email address)
Wednesday - July 08, 2009
|
Share

Del.icio.us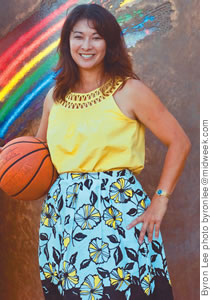 It's been a whirlwind for coach Dana Takahara-Dias
The days are like a whirlwind this summer for Dana Takahara-Dias. Often up before dawn and working until late into the night, she says it's a balancing act, and she's running on adrenaline.
"What is sleep?" she laughs.
Since she was hired as the new head coach of the University of Hawaii Wahine basketball team - the first woman head coach of the program in 30 years - she's been reorganizing that once-proud program, as well as finishing up the final stages of her current position with the City and County of Honolulu.
"I learned very young in life that you make sure you leave a place better than when you found it," she says. That's why she's spending her final weeks as director of customer services finishing up on projects that are near and dear to her heart.
"It's important to me that we finish these initiatives we've started, and I wanted to see it through," she says. "I've received a great deal of support from both the UH ohana and the Mayor's office."
She expects that the transition from her full-time job with the City and County to full time at UH-Manoa is still a few weeks away. "I hope to be on the road watching tournaments, hopefully by the 17th (of July)," she says.
In the meantime, she's already hired her new coaching staff, including former assistants Da Houl and Serenda Valdez. And she landed her first big-name recruit when former three-time state player of the year Shawna Kuehu signed to play next season for the Wahine.
"That was big for us," she says. "She's a hometown favorite, and fits in with our goal to recruit strong locally. This can only help us in the long run."
Recruiting for the future is one of her main goals once she gets on the road later this month. "I'll be going to tournaments in California, Vegas and New Mexico," she says. "We're already starting to look at the next class."
Her hiring was met with strong approval throughout the local basketball community. Takahara-Dias is well-respected after stints as a winning head coach at Moanalua High School and with Team Aloha. But she hasn't coached at the college level for many years - since her position as an assistant with the legendary Vince Goo, for whom she played during the 1980s.
"I wasn't much of an offensive powerhouse," she says, laughing. She scored just over 2 points a game during her four-year Wahine career, but started several games at point guard one season and was the team captain during her senior year.
The former multisport star from University Lab School walked onto the UH team after high school, and believes that experience will help her.
"I was a walk-on, and never in my wildest dreams could I imagine that basketball would eventually be my life's work," she says. "I've come full circle, coaching high school and with Team Aloha and at the college level, and now being the head coach of the Wahine is truly an honor. It's the ultimate honor, really."
Takahara-Dias says that with such conviction that you know she means it. Her strong work ethic and commitment to excellence - not only on the court, but also in the classroom and in the community - is sure to bring fans back to watch Wahine basketball at Stan Sheriff Center.
"We're going to play uptempo and run when we can," she says. "But we're also going to run smart and play smart. That's important.
I believe strongly in defensive intensity, and we're going to be known as a team that plays with a great deal of heart. When there's a loose ball on the court, we're going to be on that ball."
On the ball is where Takahara-Dias is these days, working incredibly long hours to make sure one project is finished right while another program is started right.
"I'm loving every minute of it," she says.
Most Recent Comment(s):