Smiling All The Way To States

By
.(JavaScript must be enabled to view this email address)
Wednesday - May 03, 2006
|
Share

Del.icio.us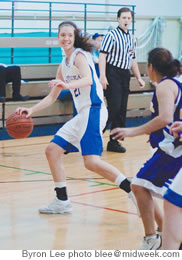 Courtney Gaddis is leading La Pietra
to sporting success
Courtney Gaddis has nothing to prove, but she keeps on proving it anyway.
When she was in the seventh grade, Courtney broke three of the fingers on the same hand while playing basketball. She didn't want to miss her next game, so she simply taped up her fingers "very tightly," she says, and played on.
That incident proved her courage and toughness.
Late last month, as an 11th-grade basketball star for tiny La Pietra Hawaii School for Girls, Courtney scored a season high 25 points in a huge victory over the perennially powerful Punahou Division II team.
"I don't think about scoring. I think about what I can do to help the team," she says.
That unselfishness and versatility in a big game proved her advanced maturity as a player.
During all this time, 16-year-old Courtney plays the game with unrelenting joy. She seems to always have a smile or a laugh, both on and off the court. Her laughter, in fact, is contagious.
"I love it," she says. "I feel the happiness of the team doing well."
That sheer joy and happiness prove her positive spirit.
"You gotta enjoy life," she says. And Courtney does. She carries a 3.75 grade point average and hopes one day to "help children," she says, either as a children's dentist or a pediatrician. She's also very active in her school.
"At La Pietra, we're all like sisters," she says.
But the small private all-girls school located at the foot of Diamond Head has never been an athletic powerhouse, despite graduating a few former Olympians plus UH Wahine volleyball star Alicia Arnott.
"Playing Punahou and Iolani and Kamehameha can be very intimidating," Courtney says. "You know you have to prove yourself a lot."
Courtney has been proving her worth on the basketball court for years. She started playing in the KAC leagues at age 7, and then started attending the prestigious Kalakaua basketball clinics a couple of years later. "Oh, man, I was pretty bad," she says, laughing at the memory. "I used to cry when I didn't score in a game. It took a while to get the skills, but then it started to click."
It really began clicking her eighth-grade year when she led the La Pietra intermediate team to an undefeated season. Playing on the varsity as a freshman, Courtney took a leadership role as the Lady Panthers'point guard and averaged close to double figures. As a sophomore, she began picking up more of the scoring load, and her La Pietra team "finished just one game away from States," she remembers.
So this year, with all the players back together again from that magical eighth-grade season, the Lady Panthers set their sights high.
"Our goal is to make it to states. We've never been there before. Our coach told us if we make it there (to the D-2 state tournament), we're not just tiny La Pietra. We're La Pietra," she says, raising her voice with emphasis. "We can show them we can compete with everyone. When we beat Punahou, it was like we had won States. I can't imagine the feeling of winning it all."
But that's La Pietra's goal. It's helped that Courtney has continued to grow, not just as a player, but also in height. "I think I've grown two inches this year. I'm 5-foot-11 now and still growing," she says.
That height, combined with her ball-handling, passing and shooting skills, has made her especially tough to defend. Normally a point guard, "sometimes I play all the positions," she says.
That versatility has already gotten her on the recruiting map. She's received letters from the University of Denver and Northern Arizona already as a junior. This summer, when she travels to the Mainland to play for the Kalakaua all-stars, she's sure to receive even more attention.
But all that's in the future. Right now, Courtney is just enjoying the ride of this spectacular season for La Pietra.
"My heart is still beating so fast," she says.
That's Courtney Gaddis. Her unbridled enthusiasm is proof again of her passion for her sport, her teammates, her school and life as a whole. The best is yet to come, and Courtney will be taking every step along the way with a smile.
Most Recent Comment(s):