So You Think You Know Local Sports

By
.(JavaScript must be enabled to view this email address)
Wednesday - July 02, 2008
|
Share

Del.icio.us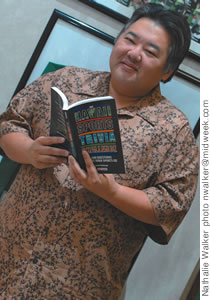 Author Lance Tominaga, king of Hawaii sports trivia
First off, trivia isn't trivial.
I learned that when I was in the radio talk show business. Whenever our show wanted to "play" trivia, the phone lines lit up. Everybody wanted to play, and many didn't care if there were prizes or not.
Lance Tominaga, website editor for ESPN 1420, knows this full well. He's seen first-hand the popularity of his station's trivia contests, including KKEA's annual Ultimate Sports Trivia Challenge. (Before he landed the job at the station, he was once a Final Four contestant in the popular summer contest.)
"I've always loved trivia," he says. "I remember as a kid growing up in Waipahu, I really enjoyed listening to sports radio. There was this one host, Larry Jones, who had great trivia. I loved listening to the questions."
Through the years, Tominaga became a great sports fan. He says his athletic career stopped about the time he played intermediate school basketball, but he never stopped loving the games. "I read every sports book I could get my hands on," he says.
Now 44, Tominaga has turned reading into a prolific career as an editor and writer. He authored the travel book Unofficial Travel Guide to Hawaii and The History of Hawaii Winter Baseball: Catch The Dream. He also has written or edited for several local magazines and other publications.
"My background is in writing. I've been doing it for 20 years," he says.
His latest writing project is a salute to all the people who love trivia, and, like him, love trivia questions. Hawaii Sports Trivia: 1,000 Questions To Test Your Sports IQ! is currently available at all local book stores and at www.espn1420.com.
"I had this idea of doing a book on Hawaii sports trivia and ran the idea past my publisher (Watermark), who liked the idea," he says. "I started researching with popular topics like UH football, Colt Brennan and the Pro Bowl, but as the project progressed, it became more like a tribute to (local) sports figures."
In his new trivia book, you'll see questions about Akebono and Derek Tatsuno, Duke Kahanamoku and Bob Wagner, Larry Price and Russ Francis, Yuval Katz and "The Rock," and many, many others. There also are many media sports figures mentioned, including Don Robbs and Bobby Curran, Larry Jones and Kanoa Leahey, and even yours truly, the sportscaster turned MidWeek columnist turned legislator turned PacWest commissioner. (I'm an answer in quiz No. 91). "I've received lots of good reactions," Tominaga says. "My friends tell me that they try to learn stuff. One friend even started to quiz me; I think he thought I'd forget the answers. I said, 'Eh, I wrote the book.' "
But Tominaga also says he learned a great deal from the experience as for several weeks he pored through old University of Hawaii media guides, the Internet, and old copies of the Star-Bulletin and the Advertiser.
"I went down to the (state) library and spent hours working with the microfiche. I liked doing the research."
His research took him about six weeks, he says. "It was evenings and nights and all day on weekends. It took all my free time," he says.
And his favorite questions in the book?
"Well, first, I tried to be creative. So I'm not into dates and things like that," he says. "An example of that is one of my favorites: 'Which former NBA all-star played with both Trevor Ruffin and AC Carter?'"
And the answer? Well, you'll have to get the book. Hawaii Sports Trivia Challenge: 1,000 Questions To Test Your Sports IQ!
Remember, it's all about trivia, but it sure isn't trivial.
"I just want people to have fun with it," Tominaga says. "It's about jogging some memories and perhaps feeling some nostalgia."
Most Recent Comment(s):