Speaking Of Many Talents

By
.(JavaScript must be enabled to view this email address)
Wednesday - June 08, 2011
|
Share

Del.icio.us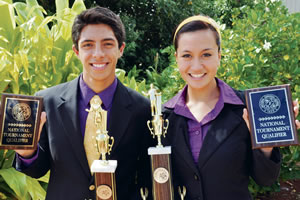 Kona Gaison and K-Cee Mahina-Ellis
When he was growing up, his dad gave him some simple instructions: "You need to run wherever you go."
Kona Gaison started running, and he's never stopped. The 16-year-old son of former Kamehameha, UH and NFL standout Blane Gaison heeded that advice. After only two years at Kamehameha, where his dad is the school's AD, Kona has starred in three varsity sports - and he somehow finds time to become a champion on an award-winning speech team.
I met him recently at the Kamehameha Speech Club's annual showcase event, in which Kona showed off the incredible skills that earned him a state title in what is called Duo Interpretation. He and his partner, sophomore K-Cee Mahina Choy-Ellis (she's from the famous athletic family that has produced Agenhart Ellis Sr. and Jr.), performed an incredible interpretation of Disney's Alladin and are now headed to the National Forensics League national championships in Dallas June 13-18.
"We call it the 'good NFL,'" he jokes. "This is my first year in speech. My friends told me about it, and when I saw it, I immediately fell in love with it. It's the one place I can be myself and get weird, and nobody cares. Everybody here is weird."
This spring, Kona also was a triple jumper, high jumper and long jumper for the Warriors track and field team. A year ago as a freshman, the 5-foot-10-inch, 160-pound jumping jack finished fourth in the state high jump. This year, he was second in the ILH triple jump.
His busiest time, however, comes in the winter. That's where he stars on two varsity teams at the same time - Kamehameha's boys soccer and basketball teams. His schedule is daunting. Many days, he runs from one practice right to another, and there are weeks where he will have a game in one sport one day, the other sport the next day, then a practice followed by a game in both sports a day later. League rules prohibit him playing in two games in two different sports on the same day, but that's the only thing that slows him down.
"It isn't easy, but I love both sports," he says. In soccer, he's the starting forward on a team that was ranked No. 1 most of the year and finished third in the state. In basketball, he was a backup guard on a team that won the state title. People who watch him play both sports talk about his speed, explosiveness and relentless intensity.
His brother Kepa, who starred in football at Kamehameha and Utah before getting a tryout with the NFL, gave him good advice. "He told me, 'You have talent, no doubt,'" Kona says. "'But when you're killing with talent and no effort, put in the effort and kill it even harder!'"
Kona has heeded that good counsel, although he says he's done with football. "I played as a freshman, but now I want to focus on soccer," he says. "My goal is to get a DI scholarship somewhere."
That goal seems well within reach - unless perhaps if Kona runs off a national title in speech in the near future.
Most Recent Comment(s):