Sports Stars Who Make Us Proud

By
.(JavaScript must be enabled to view this email address)
Wednesday - May 16, 2007
|
Share

Del.icio.us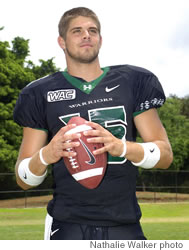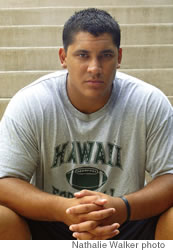 The future is bright for Colt Brennan and Ikaika Alama-Francis
Colt Brennan is my hero three times over. First, for the way he played quarterback this past season in setting all kinds of passing records for the Warriors. Second, when he announced that he was coming back to the University of Hawaii instead of turning pro. And third, when he took on the powers-that-be and voiced his opinions about the declining state of the UH athletic facilities.
Way to go, Colt! Keep on throwing touch-downs. We'll all make sure you get enough soap. You just make sure you park in both a safe and legal parking space.
* Ikaika Alama-Francis and Samson Satele, two former Warrior stars, from Kalaheo and Kailua, both have a great shot to start in their rookie seasons in the NFL. Alama-Francis turned a lot of heads at the Detroit Lions mini-camp earlier this month, and Satele has folks in Miami thinking Polynesian power after his impressive workouts there.
The Warriors' sudden notoriety may be one reason why so few of the college football powerhouses want to schedule us in the near future.
* The upcoming state high school track and field meet has an HPU connection. Darwin Vorderbruegge, who ran a 4:16 1500 meters to win the gold at the OIA championships last week, is the son of Hawaii Pacific University head basketball coach and athletic director Darren Vorderbruegge.
The younger Vorderbruegge is a junior at Kaiser High School and will be one the favorites in both the 1500 and 3000 at the state meet on Maui this week.
* Speaking of famous relatives, Chico Furtado's niece is a star basketball player for Kamehameha. Alexis PualeiFurtado is a sophomore sharpshooter for the Lady Warriors and she poured in 16 points, including five 3-pointers in the ILH championship game last week.
Alexis is the daughter of David Furtado, Chico's brother and also his assistant at Kalaheo.
* And how's this for a brother-sister act? Scott Smith won the ILH Defensive Player of the Year honors this past season in high school football as an AllState defensive end for St. Louis. During the basketball season, Smith, a 6-foot-6-inch senior on his way to Cal-Berkeley on a full-ride football scholarship, was the ILH co-player of the year with Spencer McLachlin of Punahou.
This spring, Scott's sister Jamie, a 6-foot junior center for Iolani, is the odds-on favorite to win ILH player of the year honors in girls basketball after leading the Raiders to the ILH title. It might be the first time in conference history that one family won all three ILH player of the year awards in the same year.
Congratulations to Scott and Jamie's parents, George and Brenda Smith of Kailua. The entire Smith family will be at the girls basketball state championships this week at Stan Sheriff Center.
* If you haven't tuned in already, the morning sports-talk lineup on KUMU is packing quite a wallop. Dubbed the All-Stars, it features father and son Jim and Kanoa Leahey on Monday and Friday mornings from 6 to 9 (The Leahey and Leahey Show), Jeff Portnoy on Wednesday mornings, and yours truly with my old Hawaii Sports Final buddy Jai Cunningham on Tuesdays and Thursdays (The Bob and Jai Show.)
KUMU is located at 1500AM on your radio dial. The phone number for call-ins is 296-1500.
* Finally, I'll actually be off the next couple of weeks. My wife Elaine and I are off to New York City to see our daughter Becky graduate from Columbia University. Becky is then going into teaching and coaching at Cheshire Academy in Connecticut.
We're both very proud of her, as we are of all our children. If you would like to tell me how proud you are of your kids, feel free to e-mail me. I'm a sucker for listening to proud parents.
Most Recent Comment(s):