Springing Into Championship Time

By
.(JavaScript must be enabled to view this email address)
Wednesday - April 13, 2011
|
Share

Del.icio.us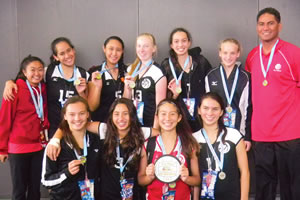 Ka Ulukoa: (front, from left) Brandee markwith, Dallas "hana" Lishman, mia heirakuji, melia Simpkins (back) Kiani tuileta, Lia Gaogoa, Lillie Klemmer, Kealani Browne with coach Larry tuileta and assistant coach Kathy Kobayashi. Photo courtesy Wendi Lishman
Spring is a time when many Hawaii club and high school teams are thinking about championships.
I got a nice email the other day from Wendi Lishman of Kailua, whose daughter Hana will be part of the Ka Ulukoa volleyball club that will vie for a second straight national championship at the Junior Nationals. The Ka Ulukoa U14 girls team (14 years and under), with nine girls who attend middle school at Iolani, Kamehameha, Maryknoll and Punahou, recently won the Junior National qualifying tournament in Spokane, Wash., in impressive fashion.
The team is coached by Larry Tuileta of Kaimuki, whose daughter Kiani is on the team. Tuileta also is the assistant coach for the Ka Ulukoa boys team that will go to Junior Nationals to try to defend its title. The Ka Ulukoa boys won the Junior National gold medal in 2010 at U14 and in 2009 at U13, both coached by former University of Hawaii and beach volleyball star Pono Ma'a.
This year's girls Junior Nationals are in Atlanta, Ga., in late June, while the boys tournament is in Minnesota. "These are kids whose dreams are to be college and Olympic volleyball players," Lishman says. "By the looks of things, they are definitely on the right track."
By the way, Tuileta's son, Larry Jr., is an outstanding freshman outside hitter for the Punahou boys varsity that is currently ranked No. 1 in the state by the Star-Advertiser and also has ranked in the top five nationally. The Buffanblu hope to defend their state prep title at the HHSAA boys volleyball state tournament May 12-15.
* Meanwhile, high school baseball fans are keeping tabs on a thrilling race to states on the diamond. Punahou has dominated the sport in recent years, with seven straight state championships dating from 2004 to 2010. During that near-miraculous stretch, in which they have sometimes come into the tournament unseeded, they have beaten Baldwin, Saint Louis, Pearl City, Kamehameha, Mid-Pacific and Kailua (twice) for the title.
This year, it appears it will be tough for them to make it eight in a row. Saint Louis, with former Little League World Series star Kaeo Aliviado, and pitching and hitting stars Kalei Contrades and Derek Nakasato, have set a very high standard and are currently ranked No. 1. Other top contenders are Mid-Pacific, Kailua, Moanalua and Pearl City, so it should be exciting to see what happens when the state tourney is played May 4-7 at Les Murakami Stadium.
* In softball, Wahine Softball Stadium will be the site of the HHSAA softball championships May 11-14. Watch for pitching aces Keiki Carlos of Mid-Pacific and Nani Taniguchi of Iolani, among other prep stars, in what is always a great tournament. Campbell is the defending Division I champion.
* Finally, two personnel notes. Good luck to successful basketball coach Jesse Nakanishi, the Kamehameha boys basketball coach who led the Warriors to two state titles in the past three years (2009, 2011). He's moving up to the college ranks and will become an assistant coach at Hawaii Pacific University.
And a special note of thanks to hardworking Dwight Toyama, who stepped down recently as the executive director of the OIA. Toyama worked tirelessly on behalf of public school student-athletes, his job made more difficult by challenging budget considerations statewide.
Most Recent Comment(s):