Sprinter Villoria On The Fast Track

By
.(JavaScript must be enabled to view this email address)
Wednesday - April 28, 2005
|
Share

Del.icio.us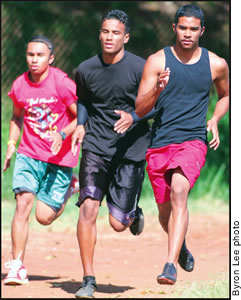 Villoria (right) runs with friends Tyrone
Olopuy (left) and Arick Harris
Perhaps it's fitting that Farrington sprint sensation Joshua Villoria is having a magical track season this spring. Fitting because Villoria's dad, Michael, is an illusionist at Waikiki's Magic of Polynesia.
"He can make a Lamborghini or a helicopter appear … he can levitate people … or he can move people's heads across the room," says the young sprinter in amazement. "He won't even tell me his secrets."
But the elder Villoria has no trouble sharing secrets when it comes to helping his son succeed on the track.
"My dad is my personal coach," the younger Villoria says with pride. "He's very technical and gives me the tiny little tips that make a difference."
On the track this season, those tiny tips have helped Joshua to incredible, almost illusory times in the 100-meter dash. He has recorded the fastest times in the state and gone undefeated in every meet this spring.
"I was clocked in 10.5 seconds (in the last meet)," Villoria says. "But I guess they didn't believe anyone could run that fast. So they gave me a 10.7."
Those times are made with hand-held timers. Villoria says he can hardly wait to prove his times when state meet officials use electronic timers at the state meet at Mililani High School in May. A year ago, as a junior, he finished ninth at states with a time of 11.29 seconds.
"I'm hoping to not only break the state meet record (10.8 seconds), I want to shatter it," says Villoria, who also has the fastest time in the state in the 200-meter dash this year. He hopes to break that record, too. "I'd like to break 21.9, if possible," he says.
His confidence isn't brashness, but based on his belief that he has worked extremely hard to achieve his success. "I don't tell myself that nobody can beat me. I just know that nobody has worked harder. I know how hard I pushed to get here," Villoria says.
The Farrington senior was a former junior varsity quarterback in football who decided last year to turn all his athletic attention to the track. He says his turning point came last summer when he tested his newfound speed against sprinters in Oregon.
"I had a chance to run in the Junior Olympics (and) I got my butt whupped," he says. "That experience made me realize how much harder I had to train."
Villoria's daily training regimen includes plyometrics and resistance work, weight training and speed drills. "I try to run only (about) 500 yards a day. The rest is weights and plyometrics," he says.
His efforts at school and in his garage at home in Royal Kunia have really helped. "In my garage, I have the whole setup, (including) a weight machine and free weights," he says. "I've gained about 15 pounds of muscle weight (since last year)."
He says his increase in muscle, combined with his incredibly fast times, have stirred up comments from competitors.
"They'll say 'What are you taking'?" he says. "I just tell them I'm shooting up on Jesus."
Villoria's faith is very important to him. He's part of a youth group at Calvary Chapel in Honolulu. "My whole family has been heavily involved," he says.
Villoria's mother Debbie is a cardio-kickboxing instructor at the Family Martial Arts Center in Kalihi. His brother Adrian has a black belt in karate. "They all cheer me on," Villoria says.
When the senior speedster blazes down the track in hopes of shattering state sprinting records next month, he can rest assured that his hard work has paid off.
And that's no illusion.
Most Recent Comment(s):
Commenting is not available in this weblog entry.