Still Armed And Dangerous At 59

By
.(JavaScript must be enabled to view this email address)
Wednesday - July 07, 2005
|
Share

Del.icio.us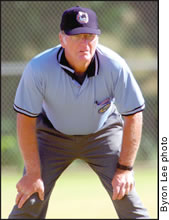 When he's not pitching, Kopp is
a top umpire
Mom. Apple pie. The Fourth of July. And baseball. They're ageless.
So is Paul Kopp. At the age of 59, and turning 60 by the end of the summer, Kopp is Hawaii's answer to Satchel Paige.
"Don't look back," Paige used to say. "Something might be gaining on you."
But nothing seems to be gaining on Kopp, who still pitches in local baseball leagues several times a week.
"I just never lost the urge to be out there," Kopp says.
Now playing organized hardball for the sixth straight decade, Kopp is probably the oldest active pitcher in Hawaii. But he's not the oldest player anywhere.
"I pitch for a team in an over-48 (age league) tournament every year in Arizona," he says. "There's a guy on our team who is 65. And another guy who's 70."
This past year, Kopp joined his longtime buddy Mike Evans and started an over-40 age group baseball league in Honolulu. That league will start up again in the fall, but this summer Kopp is throwing his 70 mph fastball in the "ageless" Oahu Baseball League.
"They used to call me Gaylord Perry," Kopp says. (There is an uncanny likeness that he shares with the former Cy Young award winner.) "I don't get that kind of taunting anymore."
That's probably because the younger guys — most of whom are in their 20s and 30s — are envious that the old guy has still got it.
"They look at me and wonder if they can even play until they're 30 or 40," he says. "I feel blessed to still be out there playing. I don't have any health issues, but it does take me a little longer to recover these days."
Kopp's love affair with baseball began early. He remembers playing the game in his native state of Washington in the 1950s and '60s. He graduated from high school in 1963 and almost immediately went into the Navy. He retired with the rank of chief in 1989.
"And then I settled in Hawaii," he says. Kopp and his wife Dawn Marie live in Village Park.
"She's very supportive," he says of his wife's understanding of his love of the game. "Especially when I (also) started making money umpiring."
When Kopp isn't on the mound pitching, he's behind the plate as a certified umpire in several area leagues.
"I love being behind the plate," he says. "That's where you feel like you're in control of the game. When I'm out there, I know this is where I want to be."
For all his love of the game, he recalls giving it up for quite awhile when he was younger.
"I didn't play from age 18 until I was 33," he says. But he re-kindled his passion when he was stationed in Hawaii in the early '80s. "Unfortunately, (that) league folded when I went on deployment," he says. When he came back after retirement in 1989, he and Evans started up the hugely-successful Oahu Baseball League.
Now he's hoping that others who would like to rekindle their own love affair with this ageless tradition will join him for the new over-40 league in the fall.
"We just give it our best shot," he says. "We leave it all on the field."
He's hoping that by next Fourth of July, he'll be joined by many more "old-timers" in the game he so dearly loves. For more information on the Oahu Baseball League or the Over-40 Baseball League, contact Mike Evans at 261- 0320.
Tell 'em the ol' Kopper sent you. Or perhaps more appropriately, make that the "everyoung" Kopp.
.(JavaScript must be enabled to view this email address)
Most Recent Comment(s):
Commenting is not available in this weblog entry.