Streaking Toward The Playoffs

By
.(JavaScript must be enabled to view this email address)
Wednesday - May 12, 2005
|
Share

Del.icio.us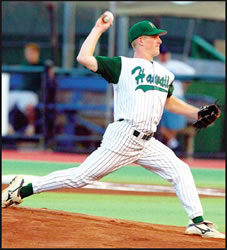 Senior Stephen Bryant will take the mound against Fresno State
Is there a greater feeling in sports than being on a winning streak?
Oh, what a feeling it is! It's a time when all the bounces go your way, when all the close calls get decided in your favor, when average players become stars, and when superstars become legends.
During a winning streak, you feel like you can walk on water. You can be down by three in the bottom of the ninth and find a way to win. You can stop an opposing rally with a called third strike on a 3-2 pitch with the bases loaded. You can turn a double play on the fastest runner in the league. You just know you're going to get big hits from the number nine man in your batting order.
During a winning streak, everything you touch turns to gold.
Oh, sure, it'll eventually come to an end. But don't tell that to anybody. You don't want to jinx it. When you're riding a winning streak, baby, you just want to hold on and ride it out for as long as you can. And what a ride it is!
Consider the winning streak of the University of Hawaii baseball team. Make that "The Streak." Six straight wins. Six W's in a row. Two straight series' sweeps.
Over two weekends, The Streak has allowed the 'Bows to leap from last place to second place in the WAC standings. Now, the Rainbows are definitely in the title chase, with Fresno State coming into town this weekend (Thursday through Saturday, May 12-14) for three games.
Get your tickets early, because fans flock to teams on winning streaks. The Streak has arguably set up the biggest WAC series since Mike Trapasso became head coach in Manoa. If Les Murakami Stadium doesn't come close to sell-outs for three straight games, it'll be a big surprise.
The Streak has been accomplished in so many ways. There were blowouts of 17-6 and 8-0 over San Jose State and Nevada, and there were nail-biters — three one-run victories. And there were so many heroes — Matt Inouye with an 11th inning home run to beat San Jose, Shafer Magana with a grand slam and six RBI's in one game, Joe Spiers going 12 for 24 during the six-game span, and both Justin Costi and Stephen Bryant winning WAC Pitcher of the Week honors.
For Bryant, The Streak has been painfully sweet. The Rainbow pitching ace has been consistently bothered by blisters on his throwing hand, but despite the obvious pain, he started The Streak with a near flawless performance against San Jose — 8 2/3 innings of two-hit ball in a 1-0 Hawaii victory.
And then there's Derek DuPree. The freshman infielder was hitting a measly .184 when The Streak started. That's what players sarcastically call "a buck-84." During the next six wins, however, DuPree was in the money, going 10 for 23 and raising his batting average nearly 100 points!
That's what happens in winning streaks.
But lest you think it was all timely hitting and flawless pitching, consider what happened to the Rainbow defense. They got better. During one four-game stretch, they made no errors at all. That's tough to do at any level.
Fittingly, The Streak also produced a milestone victory for Coach Trap. He secured career victory number 100 during the sweep over Nevada.
It's a well-earned milestone for the coach who took over a onceproud program and turned it in the right direction. Last year, Trapasso earned Coach of the Year honors in the WAC. This year, despite a slow conference start that saw the 'Bows lose six of their first seven, he's led his team back from the edge of an abyss.
Good coaches can do that.
Trapasso has made the little changes that make a difference. The Streak defines him.
The Streak also defines this outstanding Rainbow team. Gutsy. Determined. Proud.
On top of their game. This winning streak is only the beginning for them.
And The Streak continues.
Most Recent Comment(s):
Commenting is not available in this weblog entry.