Taking Some Hacks In Kaneohe

By
.(JavaScript must be enabled to view this email address)
Wednesday - October 19, 2005
|
Share

Del.icio.us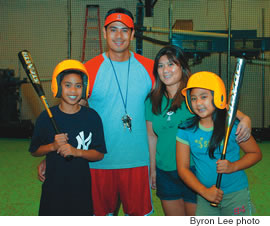 Allen and Lanie Carrancho with little
sluggers Austin and Allyson
Maybe it's because of the excitement of the Major League Baseball playoffs. Maybe it's because of the upcoming World Series. Or maybe it's just because I saw the movie Field of Dreams recently.
In any case, I'm playing baseball again.
At the age of 52.
I got my first hit recently in the Oahu over-40 league and scored my first run. I also struck out for the first time. And made my first boneheaded error. I'd like to say "I'm back," but the truth be told, I'm just old.
But I'm not ready to put away my spikes and wooden bat just yet. My MidWeek editor Don Chapman (also a baseball fanatic from way back) turned me on to the new Windward Batting Cages in Kaneohe. It's tucked away in an industrial building along Kahuhipa Street across from the car dealerships, he said.
So, I grabbed my ball cap and I drove to Kaneohe to take a few swings. Gotta get in shape somehow.
The owner of Windward Batting Cages is Allen Carrancho, a full-time truck driver from Aliamanu. He and his wife Lanie run the place. And although they'd love to turn a profit in their new business venture, the reality is that they're doing this as a labor of love.
"It was so satisfying to open up the business," Allen tells me. "They didn't have a batting cage on the Windward side, and it feels real good to hear the 'thank yous' from the community. We just love the sport."
Allen is a ballplayer in his own right. He grew up on the island of Molokai and then played some varsity baseball in high school at Lahainaluna on Maui before his family eventually moved to Oahu. He said he gave up the game in his latter years of high school, and he regrets that. But he rekindled his love affair for baseball as an adult.
"I played a little outfield and a little second base in the Oahu Baseball League," he said. "Just getting out on the field again was awesome."
He had another motivation. His son Austin.
"He's 12 years old and he plays a lot of baseball. The Cal Ripken league, Little League, PAL baseball, the Moanalua Intermediate team. He goes almost all year 'round," Allen says. "He's a little guy, and we watch baseball on TV together, and I show him some of the smaller players like Ichiro Suzuki and David Eckstein, and I tell him, 'See, you can do it. Little guys can make something happen too.'"
The Carranchos got another boost when they opened up the batting cage last winter.
"Dexter Sardinha called me," Allen said. "He offered to help out, giving batting lessons."
Dexter is a longtime coach and the father of three former Kamehameha baseball stars, Dane, Duke and Bronson, all of whom are playing professional baseball. Dane is in the Cincinnati Reds organization, Duke is with the Colorado Rockies system, and Bronson is a minor leaguer with the New York Yankees.
"It's a very good family," Allen says. "Duke has also been here to give lessons, and Dane has also worked out here. They do it because they love it."
It's certainly not about the money. Despite the baseball post-season going on right now, business is a little slow. "It was really strong from March through July, but it's dropped off since the (youth league) season ended," Allen said.
And he'd like to do something about that. He's hoping to start a fall or winter youth baseball league on the Windward side. "I'm talking to the PONY people right now," he says.
In the meantime, he's catering to old has-beens like me. I tried to take a few swings at the so-called "medium speed" pitches, but most of the dimpled rubber balls flew right past me. So, I swallowed up my pride and moved to the "slow speed" cage, and man, oh, man, was I a hitting star again.
Just give me a 40 mph fastball at Windward Batting Cage and watch out, baseball world. I feel younger already.
You can too. Windward Batting Cages is located at 46-174 Kahuhipa St. in Kaneohe. The phone number is 234-1998. And give a big "thank you" to Allen and Lanie in between swings.
Most Recent Comment(s):