Teaching Kids The Coach Trap Way

By
.(JavaScript must be enabled to view this email address)
Wednesday - December 20, 2006
|
Share

Del.icio.us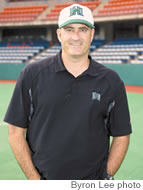 Coach Trap: Campers learn
the same drills UH players
perform
Mike Trapasso remembers the first sports camp he ever attended. A few years before the talented youngster from St. Louis, Mo., was drafted to play professional baseball, he went to camp to learn the finer points of football.
"I think I was 15 or 16 years old and it was a quarterback's camp run by Jim Hart of the NFL St. Louis Cardinals," he recalls. "It was back in the late '70s and a great experience that I'll never forget."
Eventually, however, Trapasso became better in baseball than football, and he was offered a college scholarship to pitch for Oklahoma State. "Ironically," he says, "I never went to a baseball camp."
More than two decades later, when Trapasso was named head baseball coach at the University of Hawaii, he knew one of the first things he should do is give local youngsters the chance he experienced only in football.
So for the sixth straight year Trapasso, now 43, and his coaching staff, along with some of the Rainbow Warrior players will be spending a great deal of their Christmas holiday vacation time at Les Murakami Stadium - for the University of Hawaii Baseball Winter Camp. It's open to youngsters between the ages of 7 and 18.
"We've got two three-day camps, one from Dec. 21 to 23 and the other from Dec. 28 to 30," Trapasso says. "In the mornings, from 9 until noon, we work with the pitchers. In the afternoons, from 1 o'clock until 4, we've got a hitters' camp."
The cost of the instructional camp is $120 per three-day session, or $200 for all-day.
"Every camp, we a see a kid come in and really develop in a short period of time," Trapasso says. "For example, we'll see significant changes and improvements in delivery (for pitchers) or confidence (for hitters)."
But Trapasso knows that he and his staff aren't miracle workers for the 300-plus youngsters who attend each year.
"We feed them a great deal of information," he says. "The most important thing is that they go home and work on the areas we talk about."
The winter camp is not "a baby-sitting camp," he says, meaning that the young boys and girls who attend aren't there to play games.
"We're here to teach them," the coach says.
The youngsters are organized into specific skills.
"We focus on drills and instruction," he adds. "We try to get them to a different station every 20 minutes (with a coach for every 10 youngsters). They get an opportunity to learn the same drills that our Hawaii players work on every day in practice."
Trapasso loves to see kids making progress.
"We've had youngsters here who have never played the game before," he says. "And we have some who are really, really good. They all respond well."
Pitchers work on lower body mechanics, upper body mechanics, and technique. They work on grip for different pitches and learn how to field their position. Hitters hit from a tee, from "live" pitching and in the batting cage. They learn one-arm drills and "seeing" the ball hit the bat. The hitters' camp also includes bunting and base running.
And the coaches learn something, too.
"It's a time to start from scratch," he says. "Sometimes, you forget what it's like to get back to basics. Sometimes we take these things for granted. It makes all of us better coaches."
For more information on how your future baseball star can spend his or her Christmas vacation at camp, call the UH baseball office at 956-6247 or visit the web at www.hawaiiathletics.com.
Happy camping.
Most Recent Comment(s):