Tennis Newbies Going To Nationals

By
.(JavaScript must be enabled to view this email address)
Wednesday - October 07, 2009
|
Share

Del.icio.us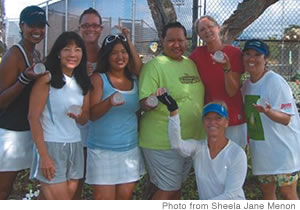 Team Potpourri (from left): Sheela Jane Menon, Irene Mirikitani, Rashelle Kotch, Amy Taniguchi, Karyn Kaina, Carolyn Annerud, PJ Ellison and Darlene Mashino Matsumoto
Can you imagine beginning a sport and reaching nationals in the same year? What are the odds of that? Well, guess what? It's happening to a group of tennis players from right here on Oahu.
Team Potpourri, they call themselves.
"It comes from our eclectic mix of players," says tennis newcomer Sheela Jane Menon, who just started playing competitive tennis in January. "We range in age from 23 to 57 and represent at least four different ethnicities: Japanese, Hawaiian, Caucasian and an Indian from Malaysia."
Team Potpourri's professional lives are just as diverse. Team members work in the fields of elementary education, genetics, healthcare, finance and education administration.
Their team captain is PJ Ellison, a cyto-genetics technologist at Queen's. "I'm one of our oldest players, at 57," she says. "It's been a real eye opener for me. I like our camaraderie; we all have such passion for tennis."
While Ellison has played league tennis for a few years, she had never played tournament tennis until this year. When the team was formed from players involved in Honolulu's USTA beginner tennis classes, Ellison was chosen as captain. The team plays in the so-called 2.5 division, which is made up of players who are either beginners or who have never participated in tournaments before.
During the summer, Team Potpourri matched up against other Oahu teams and eventually represented Honolulu in the sectional tennis championships, where they defeated Maui to earn a trip to the National Championships Oct. 9-11 in Indian Wells, Calif. They will compete against similar teams from California, Texas and the Midwest.
Team Potpourri's coach is Franklin Chee, and team members besides Ellison and Menon are Carolyn Annerud, Karyn Kaina, Rashelle Kotch, Darlene Mastumoto, Irene Mirikitani and Amy Taniguchi. For many of them, this will be the biggest competition of their lives.
"I played some soccer when they started the program at UCI (University of California at Irvine) in college, but nothing like this," says Ellison, who moved to Hawaii in 1993.
"I played some basketball and net ball when I was living in Singapore," says Menon, the team's youngest player at 23, who grew up in Malaysia and moved here seven years ago. The Sacred Hearts and University of Hawaii graduate works at Chaminade University as the job placement coordinator for Career Services.
Menon and Matsumoto both started playing tennis at the beginning of the year. They signed up for January tennis classes at Ala Moana Park and began appropriately at the beginner's level. Their USTA coaches immediately noticed that the young women showed talent and competitive spirit, and they were eventually asked to join other players with similar stories.
"I don't have a killer serve or a killer forehand or backhand, but I hustle and go all out for every ball," says Menon. She says that competitive hustle was an attribute she picked up from her brother.
"He always told me to play hard. I used to play him in badminton a lot, and then he took up tennis. I asked him to teach me, but he said, 'If you want to learn, learn the right way and go to tennis class.'"
Menon followed his advice and credits coach Chee with her development as a player.
"He suggested Darleen and I join the 2.5 team, he's responsible for us getting better," she says.
Originally a doubles player, Menon got so strong at singles - winning all but one of her singles matches during Oahu and sectional competition - that she will now play singles at the National Championships.
"This has been an exciting journey for us and we are looking forward to representing Hawaii well," Menon says.
"I think we'll do good," adds Ellison.
From beginners to nationals - it's quite a journey for Team Potpourri.
Most Recent Comment(s):