Thankful For Hawaii Hoops Heaven

By
.(JavaScript must be enabled to view this email address)
Wednesday - November 26, 2008
|
Share

Del.icio.us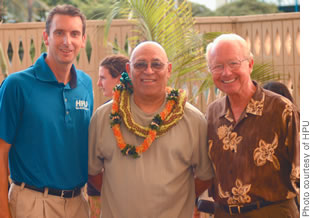 HPU athletic director Darren Vorderbruegge, coach Tony Sellitto and president Chatt Wright
I have a lot to be thankful for this week, especially since I'm a huge college basketball fan.
This week, I'm on Maui helping support defending PacWest champion Chaminade in the prestigious Maui Invitational. Can't think of a better place to be than surrounded by some of the top college basketball teams in the country - including top-ranked North Carolina, Indiana, Texas and Notre Dame, as well as Oregon of the Pac-10.
In the past couple of weeks, I got a chance to see every local college hoops team in the state and I have to tell you, I'm impressed by our wealth of talent.
I saw BYU-Hawaii knock off defending national champ Winona State - no small doing since Winona has been to the NCAA Division II title game three years in a row. Ken Wagner's outstanding club is once again led by PacWest player of the year Lucas Alves, who might be the most talented player in the Islands - at any level. He routinely scores more than 25 points a game and his quick leaping ability will make your jaw drop.
Another player to watch in Laie this winter is Seasider freshman guard Tsung-Hsien "Jet" Chang. Originally from Taiwan, he has some serious skills - and to answer your obvious question, yes he can really fly down the court! He also already has his own cheering section-complete with Jet Chang banners.
I saw Tony Sellitto's first regular season game back on the bench at HPU, and it was just great to see Tony the Tiger back on the sidelines.Watching him growl and snarl and fire up his team - and, yes, he still wears his signature shorts on game days - was like taking a step back in time to the early 1990s when the Sea Warriors won a national championship.
Sellitto's fiery style and the up-tempo play of high-scoring guards Jason Curtis and Rishi Kakad are sure to excite SeaWarrior fans all season long.
I also saw both Chaminade and UH-Hilo battle Division I rival Hawaii. While both came up short in their early season efforts, the Silverswords and Vulcans proved there's not a whole lot of difference between the top two NCAA divisions. Hilo's Jay DeMaestri thrilled fans at the Stan Sheriff Center with his long-range bombs, and Chaminade's Shane Hanson showed off his deft shooting touch a few nights later.
You can expect Matt Mahar and Jeff Law to have their teams playing at the highest level when the PacWest regular season rolls around.
I also stayed up late - really late - to watch ESPN's 24-hour hoops marathon, including the
11p.m. start for Hawaii and Idaho State. The best thing about the night was seeing young and vocal fans rimming the lower tier of seats. Hopefully, the exploits of Roderick Flemings and Brandon Adams - two potentially great scorers - can keep the fans coming back for more as the games go back to more reasonable starting times.
I'm really cheering for head coach Bob Nash to bring this team around as it gets ready for the Rainbow Classic and WAC play.
I'm also excited about the play of some of our collegiate women's teams. HPU's Jeff Harada recruited high-scoring Mana Hopkins from Konawaena, and she showed off her tremendous potential by scoring 28 points in her first-ever collegiate game! Meanwhile, at BYU-Hawaii, Wendy Anae's Seasiders are led by former Kahuku all-stater Latoya Wily, who routinely averages nearly 20 points and 20 rebounds a game.
You also should expect exciting efforts from Daphne Honma's UH Hilo Vulcans, Christina Apisa's Chaminade Silverswords and Jim Bolla's UH Wahine.
Finally, in the spirit of Thanksgiving, another former local high school and college coach -Kailua's Chic Hess - has a great deal to be thankful for this basketball season. On Dec. 6, the 68-year-old Hess will be inducted into the Lebanon (Pa.) High School Hall of Fame. Lebanon is where Hess coached legendary high school and college star Sam Bowie.
Hess also can be thankful for the fact that his historic basketball book, Prof Blood and the Wonder Teams: The True Story of Basketball's First Great Coach, is still a hot-selling item for basketball fans around the country. I read it, and it's truly a fascinating story.
So congratulations to Chic and good luck to all the great local coaches and teams this winter.
Happy Thanksgiving, everyone!
Most Recent Comment(s):