Thanks, Colt, For The Memories

By
.(JavaScript must be enabled to view this email address)
Wednesday - November 28, 2007
|
Share

Del.icio.us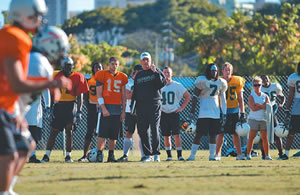 Colt Brennan (15), with June Jones, is a leader on and off the field
The UH Warriors will play their final regular season game Saturday night at Aloha Stadium against the University of Washington Huskies. It will mark the last regular season game for record-setting quarterback Colt Brennan. The following is an open letter to Colt. I hope it expresses the feelings of many UH fans.
Dear Colt: How time flies! I can't believe you'll actually be taking your Senior Walk Saturday night. As you stroll around the stadium floor bedecked with lei and well-wishes from adoring fans, I hope you can realize what you've meant to all of us the past three years.
More than the passing yards and the touchdowns and the victories and the rankings, you've come to symbolize exactly what can be great about the wonderful state of Hawaii.
We're a small state, and many only look at our swaying palm trees and our white sandy beaches and our warm tropical sunshine, and they think that's all we're about. You've brought attention to the fact that there can be so much more.
By your grit and your determination, and your willingness to put your heart and soul on the line every day, you've shown that there is a spirit here that can make us rise above the crowd. Yes, there is the aloha spirit, and you exhibit that quality in everything you say and do, but as special as that is, it's more than that.
What you've shown is that individuals can redeem themselves from adversity, they can turn their lives around in a positive direction through hard work every day, and they can stand up for those around them, and make everyone around them better.
I remember when you first arrived here in Hawaii. I came to Manoa to see firsthand the fair-haired boy from Southern California who had run into offthe-field problems at his previous school. I wondered privately how committed you were to making a real go of it here. Then, I met you, and all my doubts were immediately gone.
How could I make that determination in a matter of minutes? Because I saw it in your eyes. Those eyes said character, and responsibility and commitment. You owned up to your mistake - in fact, I saw you speak publicly about it a number of times. You always had the same positive message: If I can stand up and take responsibility for my actions and turn myself around, then so can you, or words to that effect. Simply put, you inspired others with both your words and your actions.
You also had no high-fallutin' airs about you. From the old-timers to the small-kine kids, you made time for everyone. How many extra hours did you spend signing autographs? You really didn't have to take more than a few minutes, but that wouldn't have been you. You, the best quarterback and arguably the most highly touted football player this state has ever produced, you always had time for everybody.
Thanks also for your loyalty to your teammates, coaches, university and our state. When you announced - after countless days and hours of soul-searching - that you were coming back to play your final season here rather than jumping to the NFL, your bonding with Hawaii showed front and center. When I heard your voice crack with emotion during the press conference, tears immediately came to my eyes, too. I'm sure I wasn't the only one.
Loyalty is one of the greatest character traits there is. By turning your back on the potential to make millions of dollars right away, you commanded the loyalty of thousands of Hawaii fans forever.
You also commanded with your leadership skills - both off the field and on it.
So, thanks also for allowing those leadership qualities to take all the rest of us on a wonderfully wild ride.
Because, what a ride it has been. Notice how I've hardly talked about your football skills. I saved the best for last.
On the field, watching you play for our Warriors game in and game out, has been a true privilege. Your pinpoint passing, your command of the field, your dramatic flair, have been nothing short of breathtaking. I've cheered on the touchdowns, worried through the injuries, and truly appreciated the style in which you play this great game.
I know there's a bowl game to go, and more passes to throw, and more autographs to sign, and an NFL career ahead, but I just wanted to say thank you before you walked off the field turf at Aloha Stadium one more time.
Thanks, Colt Brennan, thanks for being you. We in Hawaii will never forget your greatness - a greatness that goes way beyond the playing field.
With much aloha, (signed) The Big Sports Guy
Most Recent Comment(s):