The Amazing Kanani Herring

By
.(JavaScript must be enabled to view this email address)
Wednesday - October 31, 2007
|
Share

Del.icio.us
Kanani Herring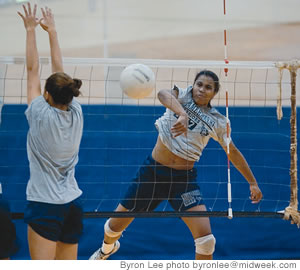 Whether roofing an opponent's shot or spiking a kill, Kanani Herring is on top of her game
Awesome. Mindboggling. Amazingly talented. These are just a few of the terms that describe Kamehameha's volleyball sensation Kanani Herring.
Her incredible athletic gifts even surprise her mom.
"Sometimes it's just breathtaking to watch her," says Melody Danielson, who played some volleyball herself several years ago at Leilehua High.
But Herring plays the game at another level. Kamehameha coach Chris Blake calls it "an extra gear." Simply put, the amazing 5-foot-10-inch senior outside hitter has that ability that champions possess - when necessary, she can take her game up another notch.
Never was that more evident than in the recent ILH title match between the top-ranked Warriors and the second-ranked Iolani Raiders. At match point, with 1,200 screaming fans on their feet, Herring came flying in from the back row and smashed home a mind-numbing kill for the point, the game, the match, and the conference championship.
"I just love this game!" Herring tells me in the jubilant Warrior celebration moments after the win.
As she has done for the past three seasons, Herring led the way with a match-high 14 kills in a 25-22, 27-25 win. It's no wonder that she is the reigning two-time state Player of the Year and hopes to lead Kamehameha to its third straight state title this week in Hilo (Oct. 31-Nov.3).
"Our goal was to earn the No. 1 seed in states. Iolani almost took that away from us for a while, but we got it back. Iolani played wonderfully, but I owe it all to my teammates," she says thoughtfully.
That thoughtful and respectful nature reflects the off-the-court Herring. Away from the big crowds and the national volleyball stage - where she has also performed at the highest level, including winning USA Volleyball's Youth National Division Championships and Player of the Year honors and making the U.S. national team in the Junior Olympics - Herring is an outstanding role model.
"She's very hard-working, very respectful," says Danielson. "She always places her team before herself. She listens to her kupuna and she puts the Lord first."
Herring grew up in Ewa Beach, where her grandfather, Henry Pang, first noticed her tremendous potential. Pang was an excellent player himself, with a bevy of experience in community and military leagues.
"He first started playing with her in the back yard," Danielson says of when Herring was only about 4 years old. Within a couple of years, grandfather signed up his young protg in the Manoa Athletic Club.
"Her tutu took her everywhere," Danielson says. "She went to school in town - at Lanakila - and then went right to the gym and the games."
By the time she was a teenager, Herring was playing for the prestigious Jammers Volleyball Club, winning several championships at the local and national level, and then she became a star at Kamehameha. As a sophomore and junior, she led the Warriors to the state championship. Last year, in a thrilling 35-37, 25-21, 25-21 victory over Punahou in the championship match, Herring finished with a match-high 19 kills, including eight in the decisive game.
She's that kind of player - when the game is on the line, she finds a way to take it up another notch.
She does the same thing in the classroom where she is a 3.8 student. The best part of all of this is that local fans will get to enjoy her outstanding talents for several more years. Herring has already verbally committed to play for the University of Hawaii Wahine volleyball team next season. Fans are already comparing her leaping and hitting ability to Tee Williams and Kim Willoughby.
She's got that kind of talent.
But there is one more goal to achieve at the high school level. That comes this week at the state girls volleyball tournament on the Big Island.
Don't be surprised if Kanani Herring finds a way to take it one notch higher.
Most Recent Comment(s):