The Annual Nice People Awards

By
.(JavaScript must be enabled to view this email address)
Wednesday - December 21, 2005
|
Share

Del.icio.us
With Christmas coming up this weekend, what better way to celebrate the world of local sports than by looking back at an incredible year. The following is a list of the 2005 Bob Hogue/MidWeek Nice People Awards - sports people who made a difference by their performance and just by being nice:
* Michelle Wie: She's Hawaii's sweetheart and one of the most popular players in the world of golf. As talented as she is at the age of 16, one of her greatest gestures was donating $500,000 to the victims of the Hurricane Katrina disaster on the day she announced she was turning pro.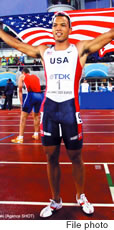 Bryan Clay
* Bryan Clay: The decathlete from Kaneohe earned an Olympic silver medal in 2004, but topped that this year by winning the decathlon World Championships in Helsinki, Finland. He also became a father for the first time and spent several weeks in Hawaii celebrating with his family and donating his time to the community.
* Layton Aliviado: The manager of the spectacular Ewa Beach All-Stars. The Honolulu postman led his Cinderella team to the Little League World Series championship in Williamsport, Penn., thus winning the hearts of baseball fans all over.
* Colt Brennan: OK, so the Warriors didn't have a winning football season, but their spectacularly accurate quarterback led the nation in touchdown passes. Can't wait to see what he's got in store for an encore next season when he finally masters the offense.
* Jim Donovan: Toughest job in the state, convincing sports fans that there's a good reason to attend this year's Sheraton Hawaii Bowl between WAC co-champion Nevada and Central Florida. If someone can put okoles in those Aloha Stadium seats on Christmas Eve, Jim can!
* Siuaki Livai: Quickly turning Kahuku into a high school football dynasty, he led the Red Raiders to their fourth state title in the last six years with a heart-stopping win over Punahou in the Division I championship game.

Michelle Wie
* Kale Ane: He guided Punahou to the ILH football title for the first time in over a quarter of a century. The former NFL star has turned the Buffanblu program into a winner and his team came within two yards of taking home this year's championship trophy.
* Dr. Mark Mugiishi: He's guided Iolani to four state basketball championships in a row, plus an improbable streak of over 100 straight victories against Hawaii teams. The doctor keeps on winning with a mild-mannered, first-class demeanor. Yes, nice guys do finish first.
* Mike Taylor and Bobbie Awa: He led Punahou to the state girls basketball title in 2003; she led Konawaena to the title in 2004. In 2005, the two collided for one of the most spectacular finishes in state history, with Punahou eeking out a two-point victory in double OT to take the championship.
* Spencer McLachlin and Miah Ostrowski: The Mutt and Jeff of two-sport stars. Spencer, at 6 feet 6 inches, was the state's volleyball player of the year. Ostrowski, at 5 feet 9 inches, was the top football receiver in the state. Together, on the basketball court, they helped snap Iolani's 104-game winning streak, and put Punahou in the position as favorites to win the title this year.
* Eric Kadooka: Quiet and professorial in appearance, his Punahou baseball teams play with a bulldog tenacity. This past spring, he coached the Buffanblu to their second straight state championship.
* Tom Holden: Yes, I know this column seems dominated with people from Punahou, but that's the kind of year it was for the Buffanblu. Tom is the efficient, yet easy-going athletic director for a school whose athletic program was ranked No. 4 in the nation by Sports Illustrated.
* Bob and Diana Souza: The Kailua couple is representative of the thousands of die-hard University of Hawaii sports fans who love their island teams. I know they'd like me to wish everyone a Merry "Green and White" Christmas. And Go 'Bows.
Congratulations one and all. May this be the happiest holiday season you've ever had.
Most Recent Comment(s):