The Annual Nice People Awards

By
.(JavaScript must be enabled to view this email address)
Wednesday - December 13, 2006
|
Share

Del.icio.us
It's holiday time and that means a chance to send out big mahalos to the people of the local sports world who make our lives so fascinating. Once again, here's the 2006 edition of the annual MidWeek Nice People Awards: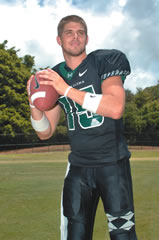 Colt Brennan
Colt Brennan - The Hawaii quarterback didn't win the Heisman, but he sure got us thinking about it. All season long, he gave us a lot to cheer about all and was deservedly named the WAC's Offensive Player of the Year. This has been one of the greatest season's in UH football history and the ride isn't over yet. The Sheraton Hawaii Bowl sits on the horizon with a chance to get revenge against the Pac-10. Colt, who came so close against Oregon State, can get it done against Arizona State.
Nate Ilaoa - They call him Nasti, but the big running back is truly a sweetheart. Just look at what he does to opposing defenses. Whom he doesn't run past, he runs over. Great speed and great moves for a big man and what a way to finish his senior season.
Ikaika Alama-Francis and Mel Purcell - The two huge senior defensive linemen both made First Team All-WAC and are two of the hardest working players on the defensive side of the ball. They're big. They're strong. And they're so quick for their size. Expect both of them to be NFL stars in the very near future.
Davone Bess - What hands! What speed! What moves! And we get the UH receiver back for two more All-WAC and maybe All-America seasons!
Reggie Torres - He got it done in his first year as the head football coach of Kahuku. Call him the king of last-second thrillers. He willed his team to victory in the state championship semifinals and again in the championship game against St. Louis. And The Red Raiders - known for their offense over the years - did it with defense - and get this - a kicking game!
Delbert Tengan - He brought St. Louis back to gridiron prominence. The Crusaders were undefeated and just a few seconds away from the title when Kahuku spoiled their party. But what a season for the St. Louis faithful!
Kanoe Kamanao - She's finished off four years of volleyball perfection at Hawaii and doing the same at Iolani. The softest hands of any setter since Robyn Ah Mow, she's truly going to be missed.
Shawna Kuehu - The Punahou center is the princess of the basketball court and the most dominating girls' basketball star in Hawaii in years. Her twin sister Shaena is a great star, too. And the best thing for fans - they've still got two more seasons to play!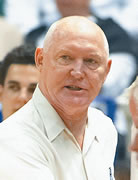 Riley Wallace
Riley Wallace - One last season for the Grand Old Man of Hawaii basketball. And Riles should go out with a bang. He's done a terrific job in Manoa with wins over national powerhouses and great players up and down the court. He deserves every accolade that will be coming his way at season's end.
Duane Kurisu - He brought Hawaii Winter baseball back after a long hiatus. The short season was a thrill for the young professionals and baseball fans, too. Looking forward to next season already.
What a year and what a holiday season. Have a Merry Christmas, everyone!
Most Recent Comment(s):