The Baseball Memory Hall Of Fame

By
.(JavaScript must be enabled to view this email address)
Wednesday - October 06, 2010
|
Share

Del.icio.us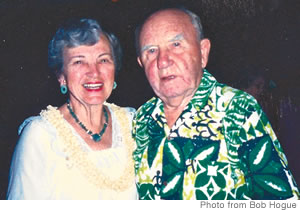 Thelma and Peter McLachlan
With the MLB playoffs in full swing, October is the greatest month of all for baseball fans. For me, it's about memories that are indelibly etched in my mind.
One of my favorite October memories brought together my favorite team - the L.A. Dodgers - and my grandfather, Peter McLachlan of Honolulu, and a moment that will live in baseball lore forever.
The date was Oct. 15, 1988. I had just moved to the Islands to become the 10 p.m. news sportscaster on KHON-TV, and had picked up a side job writing a sports column for MidWeek. I was still living out of my suitcase and had just rented a place to stay, but had no furniture and no television set, so I wondered if I would get to see game one of the World Series between the Dodgers and the powerful Oakland A's.
Luckily, my grandparents lived in a high rise in Makiki, and my Grandpa Peter was a big baseball fan. Grandpa Peter had turned 90 years old just a few months earlier, and his sight was failing badly and he was nearly blind, so one of his favorite pastimes was spending nearly three hours of each day from opening day in the spring until the last game of the World Series listening to baseball broadcasts on the radio.
Grandpa Peter was a Giants fan. He had developed his love for the San Francisco team because they were the first club to have their games regularly broadcast to the Islands. But his love of the game went beyond his favorite team. He was truly a fan of all sports, having played soccer when he moved from Scotland to Honolulu in the 1920s, and then becoming a longtime soccer referee during the '30s and '40s. After work at Dole Pineapple (he ran the Juice department), he enjoyed watching the University of Hawaii Rainbows and local high school football, and later, in retirement, became a big fan of the Hawaii Islanders minor league baseball team.
On that beautiful weekend afternoon, we parked ourselves in front of his tiny TV set, where he appreciated the fact that I would help describe some of the action to him. But he kept his transistor radio close by his side, picking up the regular chatter of the game that he enjoyed so much. In between my occasional shout-outs and Jack Buck's radio broadcast, there was Vin Scully and Joe Garagiola announcing the game on NBC-TV. For two baseball loving sports fans, a grandfather and his grandson, life was perfect.
I watched - and he listened - to the ebb and flow of the game. The A's, with the famous Bash Brothers Jose Canseco and Mark McGwire, were heavily favored to win the series. The Dodgers, with an injured Kirk Gibson on the bench and Cy Young winner Orel Hershiser unable to pitch game one, were down 4-3 by the bottom of the ninth inning. When ace reliever Dennis Eckersley put down the first two Dodgers in order in the ninth, I edged forward in my chair and told my Grandpa that things didn't look too good for my team.
I don't remember if he actually said these words, or if I've just chosen to recall it this way, but I want to think that he said something like "you never give up, laddie" in his thick Scottish brogue. Grandpa Peter was incredibly positive, as proven by the fact that even impending blindness wouldn't slow him down.
On the TV screen, Eckersley walked pinch hitter Mike Davis, and Gibson limped to the plate where he painfully fouled off several pitches. The drama grew in intensity and I commented on each pitch as Grandpa kept tuned in.
And then it happened: Gibson somehow awkwardly reached across the plate and smashed a back-door slider over the right field fence for a game-winning two-run homer. As the injured National League MVP hobbled around the bases pumping his fists in a moment that has become one of the most famous scenes in sports history, I actually fell onto the floor in front of the TV, hollering in celebration. Grandpa Peter just smiled.
He lived 10 more years after that, reaching the age of 100, having lived a full and wonderful life. We shared many more times together, but that one October moment of a baseball loving grandfather and grandson will forever stick in my mind as one of my favorites.
Kirk Gibson and Grandpa Peter are together in my baseball hall of fame.
Most Recent Comment(s):