The Best - And Fastest - Of Times

By
.(JavaScript must be enabled to view this email address)
Wednesday - October 04, 2006
|
Share

Del.icio.us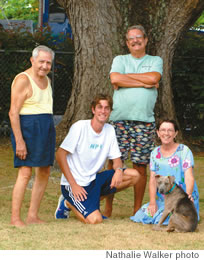 At home in Kailua with, from left, grandpa
Pat, dad Ray, mom Carole and pooch
Lucy
Todd Iacovelli is currently having the time of his life.
Or perhaps it would be more accurate to say that the star cross country runner is having the times of his life!
"I feel like I'm really racing my best in the last four years," Iacovelli says.
The former Punahou and University of Michigan star has returned home after graduating from college this past spring. Because he had used only three of his four years of college eligibility, he was able to study for his Master's degree in Business Administration at Hawaii Pacific University and run for one more season.
"It's nice to be back," he says. At Punahou, Iacovelli was truly a running sensation.
By the time he graduated in 2002, he had earned five state titles, one in cross country and four more in track and field. During his senior season, he broke the state record in the 3,000 meters (8:33, a record that still stands).
He also set a still-existing state championship record in the 1,500.
But after four sensational years at Punahou, he was in for an up-and-down career in Ann Arbor.
"I didn't run varsity my freshman year because of injuries and leptospirosis," he says.
"I really struggled with injures the entire four years. The demands of Division I are so intense, and I think that's what caused some of the problems."
But there were plenty of good times, too.
He won the Big 10 Athlete of the Week award once and was selected to the All-Big 10 Academic Team four years in a row. Somehow he also found time to work 15-20 hours a week in the school's psychology lab and - get this - he earned a double major!
He graduated with honors with degrees in economics and psychology.
"The best part of being at Michigan was football Saturdays," he says. "We used to plan our training runs so we could run through all the tail-gate parties. What an atmosphere!"
In between the training, the working and the studying, he had time to think about his future.
"I could have started working (in California). That was my plan," he says.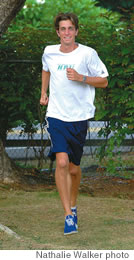 Todd Iacovelli is home
again, and healthier than
he's been in years
"But since I had one year of eligibility remaining, I could-n't pass on the opportunity to study and run competitively at the same time. I knew (HPU cross country coach) Christian Friis from my running days at Punahou and I just felt it was the perfect fit."
It certainly has been. In the first three meets of the season, Iacovelli stormed past his local competition. He finished first by 30 seconds in the opening meet of the season, an 8-kilometer race.
He was just setting the stage for things to come.
"Then I won the second race (6K) by 24 seconds," he says. "And the third meet (5K) had a bunch of Mainland runners and I finished second overall (to a D-I runner)," he says.
"I've been healthier than I've been in years and that's made all the difference."
HPU competes at the NCAA Division II level and Iacovelli has high hopes of making a big mark on the national scene.
"We're pointing towards the Western Regionals (Nov. 4 in northern California). I'm really training for that and a spot in the nationals two weeks later
(Nov. 18) in Orlando, Florida," he says.
Both races are at 10,000 meters (10K).
He trains by running 70-75 miles each week through Kailua and Lanikai.
"The best thing about running is seeing the positive results of working hard," he says. "Coming back here has been extremely positive. Everyday I go out there, it's exciting."
Iacovelli is hoping to finish his masters degree in less than two years. "I'm hoping to get into the Hawaii business world," he says.
But there will be plenty of running before then. After this cross country season, he's hoping to train for the Great Aloha Run in February.
"I heard they haven't had an overall winner from Hawaii in a few years," he says.
Maybe Todd Iacovelli can change that.
Most Recent Comment(s):