The Best Little Basketball Tourney

By
.(JavaScript must be enabled to view this email address)
Wednesday - November 24, 2010
|
Share

Del.icio.us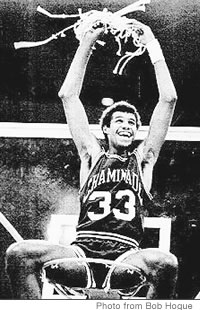 Chaminade's Richard Haenisch enjoys the moment
I'm on Maui this week, and I feel like the luckiest sports fan around. The Valley Isle is home to the annual EA Sports Maui Invitational, easily the No. 1 pre-season basketball tournament in the country.
But it's fun to remember that the game had its roots on Oahu. It was 28 years ago next month when top-ranked Virginia, with 7-foot-4-inch Ralph Sampson, made a stopover in Honolulu after playing two games in Japan. It's been said that Sampson had the flu on the night his seemingly invincible Cavaliers squared off against tiny Chaminade, but you would hardly know it if you watched a DVD of the game.
Sampson scored 12 points and grabbed 19 rebounds as he scooped errant shots high off the glass, and was a strong presence throughout the contest. But the smaller Silverswords, who had knocked off crosstown rival University of Hawaii just five days before, refused to be intimidated, and they came back from an early second-half deficit to beat Virginia 77-72 in what has been called over and over "the greatest upset in college sports history."
Before most of the rest of the nation even knew about the incredible upset - and many were shocked when they eventually found out - the idea for a big-time tournament was born. It came from Virginia's coach Terry Holland, who suggested to Chaminade athletic director Mike Vasconcellos that his school might be able use the win to convince other Mainland teams to come to the islands for a pre-season tourney.
The then-called Maui Classic began two years later, in 1984, and has been held every year since during the week of Thanksgiving, first after the Turkey Day feasts and eventually before, as it is now. Over the years, as the tournament earned its new name as the Maui Invitational, Chaminade had two players gain Most Valuable Player honors - pretty impressive considering that the new NCAA Division II Swords were facing all Division I competition. The local MVPs were Pat Langlois in 1984, when Chaminade was still NAIA, and George Gilmore in 1991, when the Swords had moved to DII and the PacWest.
Gilmore is a name worthy of remembering because his 42-point effort against eventual national runner-up Arkansas was one of the top individual performances in Maui history. Gilmore led the DII in scoring while at Chaminade, played professionally in Italy, and eventually settled with his family in Kailua.
Other Maui Invitational MVPs read like a who's who in basketball: Glen Rice, Dell Curry, Bobby Hurley, Penny Hardaway and many others.
Recently, Sports Illustrated named a contest from the Maui Invitational as the best NCAA Division I regular season game of the 2000-2009 decade. That game from Nov. 22, 2005, featured Gonzaga against Michigan State, two traditional power-houses. The Zags and Spartans traded leads 13 times, including four times in the last minute of regulation, and the game eventually went to overtime - three of them! Finally, in the third overtime, Gonzaga, led by Adam Morrison's 43 points, prevailed 109-103.
Michigan State is back again in this year's star-studded field, which also includes great basketball names such as Kentucky, UConn, Oklahoma, Wichita State, Washington -and the two schools that ultimately started it all: Chaminade and Virginia. Next year, the field expands by four schools, with games on the Mainland prior to coming to Maui. It features former Maui Invitational champions Duke, Kansas, UCLA, Michigan and Georgetown, as well as several other big names.
With great dunks, excellent shooting, outstanding defense and tough rebounding by awesome players coached by big-name coaches, there are so many reasons that I feel like I'm in basketball heaven this week. No doubt about it, Maui No Ka Oi!
Happy Thanksgiving, everybody!
Most Recent Comment(s):