The Buzz Is Back In UH Baseball

By
.(JavaScript must be enabled to view this email address)
Wednesday - April 08, 2009
|
Share

Del.icio.us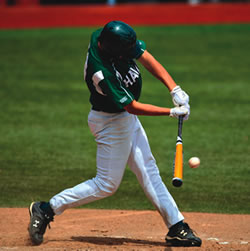 Jeffrey Van Doormun shows perfect form in striking a game-winning RBI single against Coastal Carolina
You never knew who you're going to run into at Murakami Stadium these days. With the recent success of the UH Rainbow baseball team, coupled with the great refurbishing job inside the stadium itself, it's quickly becoming the place to be on weekend evenings and afternoons.
Just the other day, I ran into my MidWeek editor Don Chapman, who couldn't wait to tell me, "I really like this team!" While we were talking, another fan paused to say hi and added, "I really like this team!"
And what's not to like? The Rainbows have exciting new players - like power-hitting freshman sensation Kolten Wong - and veterans who have turned up their game a notch - like slugging third baseman Vinnie Catricala. Coach Mike Trapasso has put together a great blend of local and Mainland talent. And his team has secured big victories over nationally ranked teams both at home and on the road, and they've won games in thrilling fashion.
Watching Wong swinging away - and what a powerful and impressive swing that is! - is a true delight. When he gets one caught up in the trade winds, watch out! I agree with longtime Rainbow fans who think he's the most exciting and potentially best player to come out of a Hawaii high school and go directly into a starting position at Murakami Stadium in well over a decade and a half.
Then, there's Vinnie Catricala, who has one of the best names around. Just say his entire name - first and last - and let it roll around on your tongue. Now say it like this - Vinnie Catricala of Sacramento. It gives me chicken- skin just saying it. It's the same way with his hitting. At last count, he was leading the team with a batting average over .350 and a slugging percentage well over .500.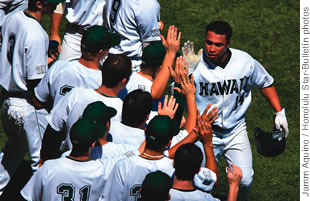 Teammates greet Kolten Wong after one of his team-leading home runs
The Rainbows have other great names, too. Landon Hernandez is the big, strong senior catcher and Kevin McDonald is the big slug-ger of a first baseman. Both are from the desert of Southern California, and both can really heat up the atmosphere at Murakami Stadium.
Then there's left-handed pitcher Sam Spangler, whose name also conjures up images of other southpaws of baseball lore. The Star-spangled Spangler got off to a start worthy of an anthem this season by winning his first four decisions and averaging more than a strikeout per inning pitched.
All the great names and all their terrific exploits are making for an awesome time at Murakami Stadium. What's really happening here, more than anything else, is that they've started to excite their local fans. In fact, they're starting to capture our hearts. Suddenly, the Murakami Stadium experience is almost like it used to be back in the heyday of Rainbow baseball in the 1980s and early '90s.
And it's turning old baseball fans into kids.
Chapman, my editor-friend who's been a fan of Rainbow baseball for the better part of three decades, but who has anguished through the ups and downs of recent years, was almost like a giddy schoolboy when he told me about his recent experience at the stadium. "I caught a foul ball," he says triumphantly. "It was either that or die!"
He laughs while he recounting the story of how he captured the line drive foul in the first row of the upper deck, held up the ball and received a nice round of applause from the crowd. Chapman, who recently celebrated his 60th birthday, was as proud as a 10-year-old watching his first game.
That's what a great experience at the ballpark can do for a fan - it truly turns sexagenarians into schoolboys. A great ballpark, an exciting team of name players, and a truly fun atmosphere makes that happen. It's happening now at Murakami Stadium. See you at the ballpark. You never know who might be there, too. Go 'Bows!
Most Recent Comment(s):