The College Football Weirdness

By
.(JavaScript must be enabled to view this email address)
Wednesday - October 24, 2007
|
Share

Del.icio.us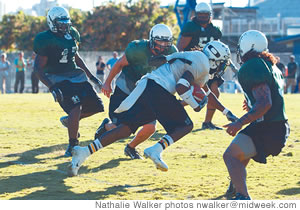 UH football receiver Ryan Grice-Mullen runs through the defense
My cell phone started going crazy on the first day of September. On that very first day of the 2007 college football season, the weirdness began.
"Did you see what's going on at Michigan?" my buddy text messaged me.
"Where the heck is Appalachian State?" the next text message said.
I tried to find an answer and go on with my traditional football life, but the weirdness continued.
"Notre Dame is terrible. USC just lost to Stanford," my buddy wrote on subsequent Saturdays. "This is not supposed to happen."
"Wait a minute, LSU also lost, and so did Oklahoma, Texas, Florida, Wisconsin and almost all the traditional powerhouses."
I checked the papers, Sportscenter and the Internet - it was all true. Something truly weird was going on.
"Who is South Florida?" the next text message read.
I didn't know.
But I did know that Woody Hayes, Bo Schembechler, John McKay, Bud Wilkinson and Bear Bryant must be rolling over in their graves.
"Five interceptions for Colt Brennan against Idaho? Four picks against San Jose State? Huh!?"
The messages just kept on coming.
I had no answers. Colt was the most pinpoint passer in NCAA history. Surely the weirdness couldn't kick him out of the Heisman Trophy race.
"Boise State just beat Nevada, 69-67!"
Wait a minute, I thought. Maybe that's the problem. Somebody out there thinks this is basketball season and all of this is football's version of March Madness.
"Kentucky and Kansas are really good!"
Confirmation.
"Watching ESPN. The Hawaiian-born Navy quarter-back's name is Kaipo-Noa Hiwahiwa Akahi KaheakuEnhada. That's Kaipo-Noa Kaheaku-Enhada, for short."
That's not really weird, I replied. Apparently, they like hyphens in Kapolei.
"A 59-year-old guy - that's right 59! - is playing football this season for a small school in Texas call Sul Ross State. Get this, he's a linebacker!"
I thought that was weird until I heard that the Sul Ross State defensive coordinator went to Punahou. Smart guys, those Buffanblu grads.
"Hawaii could run the table and not get into the BCS. Look at their horrible rankings from the computers!"
That's not weird. The computer geeks just don't like our schedule. Who does?
"Nobody's safe. You think you have it easy against New Mexico State on Saturday night at Aloha Stadium, but watch out!"
I made a note to pass the message on to June Jones.
"You've got all the rest of your games at home. All except a mid-November date at Nevada."
I made another note to check the weather forecast. And then came this:
"Have your learned how to dance the Ha'a?"
Now, that's really weird. Not the dance itself, just the question.
I turned off my cell phone. The next bout of this global weirding epidemic could be too hard to take. Call it an inconvenient truth, football-style.
Most Recent Comment(s):